April 12-18, 2006
home | metro silicon valley index | music & nightlife | music preview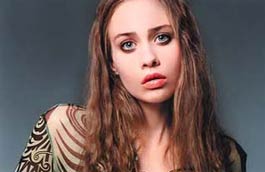 Photograph by Matthew Rolston
Old Mountain: Fiona Apple, spouter of one of the greatest drunken MTV VMA speeches ever ('This world is bull----'), comes to the Mountain Winery in June.
Mountain Winery's 2006 Summer Concert Series
New Cars smell
By Jimmy Aquino
Accessible only by a long and winding mountain road, the historic Mountain Winery (14831 Pierce Road, Saratoga; 408.741.2822) offers an escape from the chaotic Silicon Valley gridlock below. It also offers a concert series featuring everyone from the monsters of yacht rock (Kenny Loggins) to the ornery kings of comedy (Lewis Black). There's something for everybody. Eighties nostalgia buffs might want to dust off their Z. Cavaricci pants for the May 25 return of Blondie, which is touring with a revamped Cars lineup sans Ric Ocasek, who's busy with his producing career. Taking over for Ocasek is an untried unknown named Todd Rundgren.
Then June will bring on the likes of Ozomatli, Fiona Apple and that pasty guy in the Sierra Mist ads, comedian Jim Gaffigan. His cheapo Pale Force superhero cartoons, in which a barely animated Gaffigan battles evildoers with his laser-firing nipples, have been a recent highlight of Late Night with Conan O'Brien. In an avclub.com interview, Gaffigan said he doesn't curse anymore on stage. "Clean stand-up comedy" are three words that often scare me away (though not as badly as three other words: "According to Jim"). But what's unique about Gaffigan is that he got funnier after he did away with the profanity, which is like Richard Pryor in reverse. With his clever riffs on religion, holidays and bottom-barrel Hot Pockets frozen foods, Gaffigan proves that curse-free observational humor doesn't have to suck like, well, a Hot Pocket.
2006 Summer Concert Series
May 23: John Hiatt with special guest North Mississippi Allstars
May 25: The New Cars/Blondie
Jun 3: Jim Gaffigan
Jun 9: T-Bone Burnett/Jakob Dylan
Jun 11: Ozomatli
Jun 17: Wayne Brady & Friends
Jun 19: Daryl Hall & John Oates with special guest Geoff Byrd
Jun 21: Elvis Costello and the Imposters featuring the piano and songs of Allen Toussaint
Jun 25: Acoustic Planet Tour Vol. II: Bela Fleck & the Flecktones/Yonder Mountain String Band
Jun 26: Damien Rice
Jun 27 and 30: Fiona Apple
Jun 28: Donna Summer
Jun 29: Jonny Lang
Jul 1: Nickel Creek
Jul 5: Indigo Girls
Jul 6-7: Kenny Loggins
Jul 10-11: Lyle Lovett
Jul 12: Ray Davies
Jul 13: Dennis Miller
Jul 14: The Temptations/The Four Tops
Jul 16: Blues Traveler
Jul 17-19: Chris Isaak
Jul 20: Bruce Hornsby and the Noise Makers
Jul 22: The Beach Boys
Jul 23: Pat Benatar & Neil Giraldo
Jul 25-26: Gipsy Kings
Jul 29-30: Boz Scaggs
Aug 2: Ian Anderson plays orchestral Jethro Tull with the Skywalker Orchestra
Aug 3: Foreigner
Aug 4: Bruce Cockburn/Shawn Colvin
Aug 5: Julio Iglesias
Aug 9: B.B. King
Aug 10: Olivia Newton-John
Aug 12: The "You Too" Tour featuring Brian Regan
Aug 13: Bill Maher
Aug 15: Buddy Guy/The Robert Cray Band
Aug 16-17: Big Head Todd & the Monsters/Toad the Wet Sprocket
Aug 19: Lewis Black
Aug 20: Styx
Aug 23-24: k.d. lang
Aug 25: Susan Tedeschi
Aug 26-27: The Doobie Brothers
Aug 29: Rosanne Cash
Aug 31: Willie Nelson & Family
Sep 1-2: Chicago
Sep 6: Heart
Sep 7: Los Lobos with special guest Ivan Neville's Dumpstaphunk
Sep 8: James Gang Rides Again with Joe Walsh, Jimmy Fox, Dale Peters
Sep 9: Tony Bennett
Sep 16: Big Bad Voodoo Daddy
Sep 17: George Carlin
Sep 24: Creedence Clearwater Revisited
Sep 25: Charles Aznavour
Sep 27: Peter Frampton
Sep 28: George Thorogood & the Destroyers/Elvin Bishop
Sep 29-30: Huey Lewis & the News
Oct 4: Emmylou Harris
Send a letter to the editor about this story.