April 12-18, 2006
home | metro silicon valley index | the arts | stage | review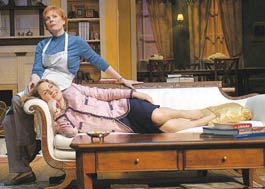 Photograph by David Allen
Relations: Sara (Alison Edwards) and Gorgeous (Carole Healey) spend some quality time together in 'The Sisters Rosensweig.'
Wendy's World
TheatreWorks stages Wendy Wasserstein's 'The Sisters Rosensweig' in familiar groove
By Marianne Messina
WITH ITS cheery yellow walls, spacious cathedral ceiling and flowing crystal chandelier, Joe Ragey's elaborate upscale living room makes poetry of the underlying fabric of TheatreWorks' production of The Sisters Rosensweig. Built-in shelves displaying tasteful and copious glassware, books and objets d'art echo the precisely in-vogue (for 1991) collection of intellectual show pieces on display in the characters' banter. Unfortunately, Wendy Wasserstein's intellectual, high-powered characters struggle, in this production, to become more than walking Salon.com profiles.
The cold, cynical eldest sister, Sara (Alison Edwards), a high roller in banking, lives partnerless in London after two divorces and a hysterectomy. Sara's "brilliant" and "beautiful" daughter, Tess (a perky Lindsay Benner), is going out with not-so-bright, spike-haired Tom (Chad Ryan Deverman), who has enlisted Tess in his commitment to Lithuanian liberation. Sara's sister Gorgeous (Carole Healey) is a comfortably married radio love-line host in Boston; her other sister, Pfeni (Rebecca Dines), is a world-traveling journalist, nurturing a part-time relationship with Geoffrey (Jeff Williams), a British musical director whose sexual orientation is still in the undecided column.
Once their convoluted backgrounds are sorted out, the characters loudly and physically overact their intellectual repartee as if they think we might be children and they're the birthday party clowns. Points for discussion become basic tenets: That women need good men in their lives, that Jewish people stay Jewish, that family will always provide continuity in this anything-goes world. Which may all be well and good, but no idea can substitute for human vitality.
For example, what the dour Sara needs, it turns out, is for a good Jewish boy like Mervyn (Michael G. Hawkins) to insinuate himself into her house uninvited and get way too close to her on the couch before she lets down that protective wall and unfreezes her frigid self. Sara and Mervyn don't seem to have any chemistry beyond her sisters' claims that he'd be great for her. I missed the part where that worked.
Fortunately, Healey's Gorgeous shows what can be done by sinking deep teeth into a Wasserstein character. Earning applause on her exits, Healey was bubbly and loquacious, yet snapped on a dime to kvetch or curse. With Gorgeous on a mission for fine things and designer shoes, Healey takes what is essentially a stereotype and makes it her own. So when Gorgeous receives a gift of the perfect designer dress suit, perfectly accessorized, the least material girl in the crowd has to get it.
By contrast, other characters' more weighty resolutions fall limply into whateverland. The production team comes through with a tiny gem when the guests adjourn into Ragey's recessed dining room for Sara's birthday dinner. We hear their continued voices around the table, distant and incomprehensible, as the lights dim and then rise to suggest the passage of time (Chad Bonaker, lighting design). Then everyone gets up and returns to foreground. This separates the meal event from all others and gives it the ability to fast-forward in time. Situated in a distant, almost hidden space, the moment of community, the "breaking of bread" seems imbued with transformational potential. A little such brilliance in other areas of this production could go a long way.
The Sisters Rosensweig, a tribute to Wendy Wasserstein, a TheatreWorks production, plays Tuesday at 7:30pm (no show April 25), Wednesday-Friday at 8pm, Saturday at 2 and/or 8pm and Sunday at 2 and/or 7pm through April 30 at the Mountain View Center for the Performing Arts, 500 Castro St., Mountain View,. Tickets are $20-$54. (650.903.6000)
Send a letter to the editor about this story.