April 12-18, 2006
home | metro silicon valley index | the arts | stage | review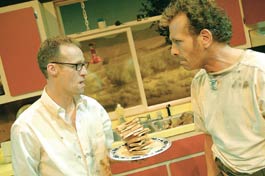 Photograph by Dave Lepori
Shepard's Flock: Rod Gnapp (left) plays Austin to Randall King's Lee in 'True West.'
Brothers
Two brothers tear down the house in San Jose Stage Company's 'True West'
By Marianne Messina
SAN JOSE STAGE COMPANY'S balls-out production of Sam Shepard's True West leaves no cup, cooking utensil or beer can unoverturned. The brotherly tension begins the instant elder brother Lee (Randall King) climbs through a window, clattering in over the sink of Mom's spectacular kitchen with its gaudy red cabinets and canary-yellow countertop. John Harrison York's set design includes all the trappings from dishwasher to wall phone to magnet-laden fridge to working outlets.
Lee's entrance startles his brother, Austin (Rod Gnapp), typing away by candlelight on a movie script. Right away, Lee lets it be known that he resents Austin's "Ivy League" education and "artsy" career as much as he envies the lifestyles ("copper pots hanging above the stove") within the houses he burgles. In addition to drawing income from the b&e arts, Lee's recent past includes being "camped up there in the desert for three months talking to cactus" (as Austin puts it).
In his striking but dirty, torn clothes—either yesterday's pimp duds or fashion coordinates by Goodwill Bin (pointy gray shoes, high-waisted silvery-gray pants and pink belt—a lovely costume design by Eileen M. Barnes)—Lee is wearing "loose cannon" all over him. So when he returns from playing golf with Austin's would-be movie producer Saul Kimmer (low-key, inscrutable Gary S. Martinez) and announces that Saul has not only offered him a movie deal but loaned him his golf clubs, we suspect the worst along with Austin: "What'd you do, beat him up or something?"
And Lee's flash anger doesn't help. "Shut up out there," he snaps at the persistent crickets (sound design Andrew Hohenner) as he hurls a cup to its smashing demise out the window. Thus the breakage begins in this two-act demolition of Mom's tacky but tidy home. The brothers soon descend into a (convincing) drunken stupor, where they remain through the play. Even when lights go out on a scene, their silhouettes can be seen staggering to the exit or circling each other, squared off like dogs.
The clever weaving of scene changes into the action seems to carry the brothers' struggle into a shadow realm, somewhere between intent and nightmare. And their silhouettes are clarified by foreboding back light on the scenic rear scrim—the dry and barren San Gabriel Mountains against a cloud-smeared sky. In the darkness of one scene change, Lee's shadow self strews beer cans over the floor; in another, he's flattening Austin's typewriter with a golf club, which he simply continues to do as the lights come up.
The brothers veer off the predictable path as Shepard's twisted humor brings on surprise after surprise. A strange kind of role reversal turns the brothers into fun-house-mirror reflections of each other, each incomplete without the other. ("Saul Kimmer thinks we're the same person," Austin remarks.) And their odd coming together at the end is more like the mutant fusion of broken bone.
When Mom (delightful Joanne Engelhardt) returns from her Alaskan cruise, we expect some elucidation, but her sweet obliviousness just adds another layer of mystery. You gotta love how the face-squinching Engelhardt stands unflinching as kitchenware crashes and drunken grappling thrashes all around her—this is some careful choreography. "You boys shouldn't fight in the house," Mom says, suggesting the infantile underpinnings of their combat, where, as the saying goes of babies, "Everything ends up on the floor." Synergy, flow and well-grounded characters give the performance a freight-train momentum that's incredibly cathartic, if not bloodletting (King bled for real at this show after sweeping a battery of toasters onto the floor). By play's end, everyone who shares Shepard's mutant sense of humor is howling with laughter.
True West, a San Jose Stage Company production, plays Wednesday-Thursday at 7:30pm and Friday-Saturday at 8pm and Sunday at 2pm through April 30 at the Stage, 490 S. First St., San Jose. Tickets are $20-$45. (408.283.7142)
Send a letter to the editor about this story.