April 12-18, 2006
home | metro silicon valley index | columns | silicon valley veggie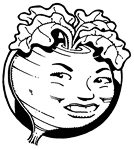 Silicon Valley Veggie
Suspicious Minds
By Elisa Camahort
LAST WEEK I went to a monthly dinner at Ming's Restaurant in Palo Alto Over time, our group's prix fixe menu has become more veggie-friendly.
That's not because I'm one of the organizers, but because everyone wanted to lighten up the meal. One of the meat entrees was changed to a vegetable entree, one of the meat appetizers became a salad and the soup went veggie. Last month they served us tofu corn chowder, a common vegetarian soup option at Chinese restaurants. This month the waiter put what looked exactly like won ton soup in front of me. I eyed it suspiciously.
"I thought we were getting vegetarian soup," I said.
"That is vegetarian," he replied.
"With won tons!?" I exclaimed.
"Vegetarian won tons," he assured me.
"Really?" I said as I peered up at him through narrow, suspicious eyes.
"Yes, yes, all vegetarian," he said, a little more impatiently, as he continued serving the table.
I poked at the won tons, opening them up, and nothing meatlike seemed to be in there, I must confess.
Can you blame me for being dubious? I had never seen vegetarian won ton soup at a nonvegetarian restaurant. I found it hard to believe it really was. Was I to dismiss the waiter's insistence as untrue? Or take him at his word and chow down (or slurp down, as the case may be)? I chose the latter.
This same kind of game is played out more often than you'd think.
Vegetarian dishes at Thai restaurants can be made with oyster or fish sauce. Mexican restaurants can be strewn with culinary land mines—from chicken broth in the rice to lard in the beans. Italian restaurants can toss their seemingly vegetarian pastas in broth, too.
Sometimes asking your waiter doesn't fill you with the confidence you need to eat with peace of mind. There's always the possibility they may not really know. But the possibility that keeps a veggie up at night is that they really don't take your question as seriously as you do. There are plenty of people who think what we don't know won't hurt us. They consider vegetarianism a choice, and a strange one at that, so sometimes their sense of obligation to support that choice is pretty diminished. Every vegetarian has heard at least one person joke about sticking something meat-based in a supposedly vegetarian dish to see if we'd notice.
Hey, we might not notice, but if we ever found out—watch out!
Send a letter to the editor about this story.