04.15.09
home | metro silicon valley index | columns | silicon alleys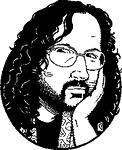 Silicon Alleys
Québec in Song
By Gary Singh
AS YOU read this, Leonard Cohen will have just played three shows at the Paramount Theatre in Oakland, and if everything went as planned, I will have used my one ticket for the second show—rear balcony, Row Z, at the back, all by myself—to see the 74-year-old singer/poet/songwriter/novelist on his first U.S. tour in 16 years.
Since the majority of my interest in failed relationships, romantic disaster, loneliness, emotional isolation, distance, longing and loss has been righteously explored by Cohen in his lyrics throughout the last 40 years, I just needed to experience this famed saint from Montreal, Québec, in person. Since my deadline was long before the show, I will now share one particular scenario out of many where his lyrics have my sweetened my night.
During the summer of 2003, I was drinking on a Saturday night in a Québec City bar called Jules et Jim. Dark, smoky and its walls adorned with old movie photos befitting a place named after the classic François Truffaut film, the place is buried among the posh restaurants and hipster clubs of Avenue Cartier, away from the Old Town area where the tourists usually go.
In general, Québec City, looks, feels and operates like an old European capital. Sidewalk cafes and street performers abound. The drinking age is 18, and the bars remain open until 3 in the morning. Primarily a hangout for locals, Jules et Jim is a microcosm of the city itself: a mixture of old and new, a Francophone locale with unwavering joie de vivre and pride in la belle province. After ordering a pint of Boreal Rousse from the only bartender merciful enough to speak English, I took a seat at a knee-high table.
Luckily, a tipsy Irish woman at another table invited me over to her group solely for the purpose of English conversation, a rare occurrence at Jules et Jim. While Montréal is somewhat linguistically split, Québec City is almost entirely Francophone, with 98 percent of the population claiming French as their mother tongue.
I sat down next to a man drinking Bud Light. André was somewhere in his 50s, with short-cropped gray hair. Another woman, also in her 50s, with long gray hair down her back, drank Pernod out of the bottle and offered herself to every guy in the establishment. She got up and danced with one man, and then another. In English, Andre told me he liked Bill Clinton because he smoked out, he fooled around, and he's a musician—therefore a real person. "George Bush is not the American dream," he said.
The dancing woman then asked me to stand up and boogie with her, and I tried but failed miserably. "I have something to share with you," she kept repeating over and over. "I have something to share with you." A few drunken sentences in French were then broken up by the word "pussy."
Andre shook his head and motioned for me to dismiss her machinations. I hazily recalled a verse from the Cohen tune "Closing Time": "We're drinking, and we're dancing/ But there's nothing really happening/ The place is dead as Heaven on a Saturday night/ And my very close companion/ Gets me fumbling, gets me laughing/ She's a hundred, but she's wearing something tight."
You see, Québecers usually brag ad nauseam that their province produced Celine Dion—as if that were something to brag about—so whenever I'm there, I start yakking about Leonard Cohen, a much better representative. Apparently, I impressed them and one fellow turned from the bar and asked, "So are you Canadian?"
I said I'm American, and the chap next to him put his index finger to his mouth with a loud "Sssshhh"—the others immediately following suit. Thankfully, what would have been a confrontational anti-American conversation was then eased by more mutual recitation of Cohen lyrics: "There is a crack in everything/ That's how the light gets in." Andre and I continued carrying on into the night, in English, as the old dancing lady continued to approach every dude in the bar. Merci, Leonard Cohen.
Contact Gary Singh or send a letter to the editor about this story.