04.15.09
home | metro silicon valley index | the arts | visual arts | review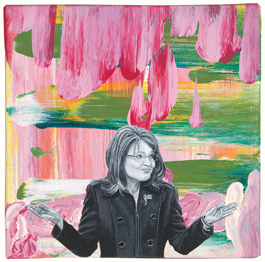 NORTH TO ALASKA: Sarah Palin reacts to news of her defeat in Kara Maria's painting at SJICA.
Take a Hike
A new show at the Institute of Contemporary Art dissects the pain of being told off
By Michael S. Gant
MANY, MANY years ago, I foolishly submitted a short story (or maybe it was, even worse, some poems) to a small literary magazine. For my troubles, I received a neatly typewritten (it was that long ago) "Thanks, but no thanks" note from the editor, who was polite but vaguely firm about my future in fiction. That editor was none other than Raymond Carver, the master of American prose minimalism. Even more pathetically, I still have that rejection letter, buried in a filing cabinet. I suppose I keep it around as a way of saying thank you back to Ray for steering me toward the highly lucrative career in the booming field of arts journalism that I now enjoy.
I used to think that writers got the worst of it in the brute business of taking no for an answer, over and over again. As it turns out, artists have us beat; at least that's the message conveyed by the witty slice of Weltschmerz now on display at the San Jose Institute of Contemporary Art. "It's Not Us, It's You," curated by Ray Beldner, is a group show devoted to the sticky question of coping with the stings and form letters of repudiation.
From Steve Lambert's extra-large, clear plastic donation box (because even when they are accepted at shows like this, artists do it for exposure, not money) to Robert Eads' wall of shame papered floor to ceiling with rejection notes, the show probes that open wound in the ego where inadequacy chips away at self-esteem.
Orly Cogan softens the blow with small embroidered pillows. At a distance, they look downright homey. Up close, their stitched messages bristle with exclusionary menace. Three cheerful flower baskets are surmounted by the accusation, "Is that what you're wearing?" A well-dressed couple knock on the door of a storybook cottage accompanied by the words "Membership Closed." There are 15 of these cushions, which Cogan calls "Fluffy Fuck-offs." They give new meaning to the term throw pillows—or they could be used to smother doll-size effigies of one's tormentors.
Anthony Discenza, recalling one of the great Seinfeld moments, when George erupts after getting a brush-off ("You're giving me the 'It's not you, it's me' routine? I invented 'It's not you, it's me.'"), contributes an enormous road sign stating flatly that most hypocritical of weasel phrases: "It's Not You." Using rejection letters themselves as his medium, Arthur Gonzales draws on them in ink and mixed media, turning boiler plate into one-of-a-kind artworks.
A thick binder contains scores of rejection letters that need no embellishment. Some poor soul must suffer the indignity of being turned down for a job as a freelance writer at the American Academy of Ophthalmology; an artist confronts the fact that he/she wasn't good enough for the outdoor Playground Fence project at the Oakland County Recorders office. Another artist has submitted the rejection letter received from this very rejection show—a perfect bit of infinite regress. At last, after thumbing through this book of tears, one admires the blunt efficiency of the Minnesota National Print Biennial, which sends hopeful artists a form with nothing but two check boxes: Accept and Decline.
Some of the pieces tackle larger spheres of rejection. Kara Maria's small square acrylics catch politicians in full snit against brightly streaked and daubed backgrounds. Eliot Spitzer grimaces, John McCain weeps, Sarah Palin offers up a "What, Me Worry?" shrug. The troubling kicker here is Barack Obama. Maria's troubling implication is that even the landslide winner will eventually be shunned.
Not everything in this clever show works as well. Beldner's collection of artists' bottle labels, Rejection Whinery Fine Art Wine, is a pun spun too far. Mike Arcega's moving dolly carefully assembled from expensive pieces of walnut doesn't seem to fit the theme at all—the mismatch between imputed humble function and precious material supposedly says something about "dislocation" according to the wall label. The piece seems to reject interpretation.
IT'S NOT US, IT'S YOU runs through June 20 at the San Jose Institute of Contemporary Art, 560 S. First St., San Jose. (408.283.8155)s
Send a letter to the editor about this story.