04.15.09
home | metro silicon valley index | silicon valley restaurants | review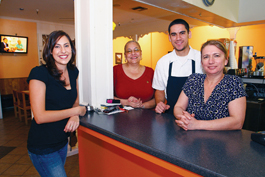 Photograph by Felipe Buitrago
HABANERO HELPERS: Elizabeth Padilla (left), Ada Padilla, Jose Luis Aguilera and Emma Sardinas of El Habanero
Slow and Savory
San Jose's El Habanero restaurant serves authentic Cuban cuisine, not spicy but deeply satisfying
By Stett Holbrook
SILICON VALLEY has Mexican restaurants in spades, but Cuban restaurants are a rarity. That's why the opening of El Habanero in February got me all excited. The San Jose restaurant serves Mexican and Cuban food. The Mexican food may be good, but I didn't bother with any of it other than the free (and mediocre) chips and salsa. I came for la comida Cubana.
Because there are so few Cuban restaurants in Silicon Valley (with El Habanero, I now count four), it's probably a new cuisine for many, so here's a quick primer. First off, Cuban food is nothing like Mexican food, most Americans' frame of reference for south-of-the-border cooking. It is not spicy in any way but is big on slow-cooked, saucy stews and quick-fried cuts of thin meat. The cuisine owes most of its influences to Africa and Spain, particularly the Canary Islands, where many of the tobacco plantation workers came from.
As a result, the nation's cooking is a combination of things like fried sweet, ripe plantains, fried yucca, tomatoey stewed beef dishes and paellalike arroz con pollo. White rice is the standard side dish, along with black and red beans. Although the food isn't spicy that doesn't mean it's bland. Far from it. Sofrito, a sautéed blend of green peppers, garlic, onion, oregano and bay leaf, forms the foundation for many dishes, as it does in other Caribbean nations, such as Puerto Rico. Mojo, a tangy sauce or marinade of garlic, olive oil, limes or lemons, onions and cumin that hails from Spain, is another signature flavor.
Cuban food is Caribbean comfort food that's easy to love. The food reminds me of hearty Sunday-supper-type cooking, nothing fancy but very satisfying. If it weren't for the trio of ladies serving and cooking the food at El Habanero, I don't think I would have liked the restaurant quite as much. Most of the food I tried was quite good, but the Cuban-born women who run the restaurant dote over their customers as they trot back and forth between the open kitchen and simple dining room, giving the place a personal touch and real personality. Service can be slow when it gets busy, but you get the feeling the Cuban mother you never had is cooking for you, so you let it go.
The restaurant occupies a hard-to-find space at the back of a shopping center. Co-owners Emma Sardinas and Ada Padilla have done a good job of brightening the place up and making it feel comfortable and inviting. Sardinas and Padilla were both born in Cuba but have been in the United States for years. Sardinas oversees the kitchen and spent time working at La Habana, one of San Jose's other Cuban restaurants, before opening El Habanero. A habanero, by the way, is a chile pepper, but also a resident of the Cuban capital. The restaurant is very much a family affair. Sardinas' husband is Padilla's cousin. Padilla's oldest daughter, Elizabeth, helps wait tables and Sardinas' oldest son, Jose, designed the restaurant's distinctive logo, an orange habanero pepper wrapped by Cuban and Mexican flags.
The food is made from family recipes and has a hearty, homespun appeal. Ropa vieja ($11.50), which translates as "old clothes" because of the shaggy, fallen apart appearance of the beef in the dish, is one of the classics of Cuban cooking, and the stewed beef dish is a solid choice at El Habanero. My dish wasn't quite hot enough, but I liked the wonderfully tender beef and stewed bell peppers and onions in a rich, almost gravylike tomato sauce.
Even if it was a bit oily, vaca frita I ($11.50) is another winner. Literally "fried cow," the dish combines grilled shredded beef that has been marinated in a pleasingly sharp mojo sauce with buttery, slow-cooked onions.
Chuletas de puerco ($11.50) scores as well: pork chops bathed in mojo make a pleasing, garlic-laden dish tempered with the acidic zip of lime juice.
Appetizers are strong, too. Maduros fritos ($4.25) are the classic Cuban side dish, plantains allowed to ripen until they're black and sweet and then fried. Cut the plantains while they're still green, and you get tostones ($4.25), starchy fried discs of smashed plantains great with a squeeze of lime juice and sprinkle of salt. Speaking of lime and salt, both go great with an order of masitas de puerco fritas ($5.75), marinated fried pork.
The two disappointments on the menu happen to be two of my favorite Cuban dishes: Cuban sandwiches and black beans. The hulking sandwich ($8.75) stumbled in several ways. The bread tasted less than fresh and was too dense and thin. The melted Swiss cheese overwhelmed the sliced ham and pickles; the requisite roast pork was in short supply.
As for the black beans, I like mine larded up with smoky pork flavors, but these were quite bland, as if they were made with just beans and water.
All was forgiven when dessert came around. The bread pudding ($3.75) is made from a baguette and transformed into a dense, uniformly creamy, almost custardlike dessert that's elevated greatly by the drizzle of caramelized sugar on top. Great, too, is the arroz con leche ($3.75). While I had to push aside the profusion of ground cinnamon dumped on top, the dessert was uncommonly creamy and rich. It's one of the best versions of this dessert I've had.
Silicon Valley's Cuban restaurant offerings may be few, but El Habanero is a solid addition to what we've got.
---
El Habanero
Address: 3132 Williams Road, San Jose.
Phone: 408.557.8914.
Hours: 10:30am–9pm daily.
Cuisine: Cuban and Mexican.
Price Range: Entrees $7.50–$16.50.
Web: elhabanerorestaurant.com.
Send a letter to the editor about this story.