04.15.09
home | metro silicon valley index | movies | current reviews | dvd review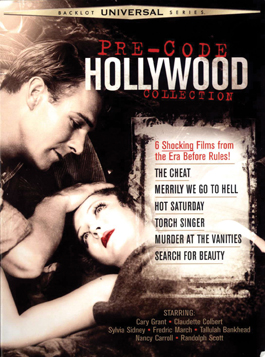 Racy Reels
A new DVD collection displays the sass of early-'30s cinema
By Richard von Busack
A NEW THREE-DISC set of early-'30s Paramount films titled Pre-Code Hollywood Collection and released as part of the Backlot Universal Series provides some absolute mulch along with the rarities from the days before the rigid enforcement of the puritanical Production Code. It's quaint mulch, but mulch nonetheless: tedious wisecracking about Prohibition, stultifying fox trotters shaking a shank, inevitably to a gloomy rendition of "One Hour With You." The sound remake of The Cheat (1931), based on a winner of a Bad Somerset Maugham Writing Competition, gives you a chance to guess what made the world a temporary slave of Tallulah Bankhead. In the middle of Torch Singer (1933), a 71-minute inanity, I suddenly had a vision of that splintery mill-town movie theater in The Purple Rose of Cairo—imagine it full of Depression wraiths watching this drama about the desperate gaiety of Claudette Colbert: party girl by night, kid's radio host by day. Merrily We Go to Hell (1932) is worse, though. Fredric March anticipates his turn as the original Norman Maine in What Price Hollywood? playing a ruinous alcoholic playwright married to Sylvia Sidney. It's one of those films in which you keep thinking an unworthy thought about the lead actress: "What a genuine doormat!" And finally, her father walks in and tells her not to be such a doormat. Having the noted female director Dorothy Arzner behind the camera means all the less in the face of such a ringing endorsement of the doormat lifestyle.Hot Saturday (1932) is, by contrast, piquant and likable. Revived at the Stanford Theatre's Cary Grant retrospective, it looks even better on a second go-round. The inhabitants of a gossipy small town get a lot to talk about when a young woman (Nancy Carroll) finds the party's over, the goose is cooked and her reputation is shot just because she spent time alone with Grant's Gatsbian roué—this, just days after he has paid off his last mistress. Despite the satin lingerie and the innuendo, the idea here is that changing mores are more important than the clothes-changing scenes typical in pre-Code movies. The film has a genuinely bracing and unexpected finish. Search for Beauty (1934) is rich, funny froth that puts you firmly on the side of a pair of snappy con-artists (Robert Armstrong and the really great Gertrude Michael), as they and mopey partner James Gleason try to hustle the 1932 Olympics and manipulate square Buster Crabbe and ever squarer (and very young) Ida Lupino. A movie that ends with a shot of a man's ass with "The End" written on it certainly has a satisfying sense of its own limits. Within these limits, this forgotten proto-screwball is a gem, and it is capped with a proto–Nuremberg Rally/Busby Berkeley–style sequence of athletes in see-through bathing suits marching in formation. Murder at the Vanities (1934) is a better-known treat. The suave director Mitchell Leisen here promos Earl Carroll's famous nightclub. Assistant manager Jack Oakie is on duty, having a raffish feud with a cop he forgot to put on the guest list. Said cop, Victor McLaglen, has to solve a backstage killing: "Maybe I'll investigate this murder to music!" He peeps the nudie tableau-vivant stage acts; meanwhile Carl Brisson belabors "Cocktails for Two" so frequently that only Spike Jones' immemorial version can save you the next day. And what do you know, Sir Duke Ellington himself performing something called "The Rape of the Rhapsody"; meanwhile Charles "Ming the Merciless" Middleton plays Liszt, tearing his hair out in frustration, before executing the entire Ellington orchestra with a tommy gun. Top that, Baz Luhrmann. This set comes with a documentary about the Production Code and a reprint of the infamous document.
PR-CODE HOLLYWOOD COLLECTION; three discs; Universal Studios; $49.98
Click Here to Talk About Movies at Metro's New Blog
Send a letter to the editor about this story.