04.15.09
home | metro silicon valley index | movies | current reviews | dvd review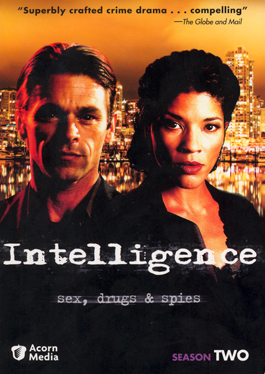 Intelligence: Season Two
Four discs; Acorn Media; $59.99
By Michael S. Gant
Call it a stereotype, but Canadian criminals are just nicer ... and politer. Generally, the Vancouver drug runners in Intelligence prefer to negotiate and compromise rather than go to the mattresses. That said, in season two (which ran in late 2007 on CBC Television), some of the bad guys actually use the F-word, which I don't think I heard even once in the first season. Something's afoot north of the border. The show, which traffics in the tangled webs of crooks and cops, picks up with drug kingpin Jimmy Reardon (Ian Tracey) barely escaping a Seattle hit orchestrated by some rogue American drug agents. Jimmy hides out in his own nightclub trying to juggle his limited informant role for Mary Spalding (Klea Scott), former head of the Organized Crime Unit and recently promoted to a new position at the Secret Intelligence Service, with an invasion by American drug dealers. As always, everyone's motives are suspect—Mary's job is threatened from below by her subordinates (including Matt Frewer of Max Headroom fame) and from Ottawa by sinister government ministers. Meanwhile, the FBI and the CIA keep showing up unannounced. Even worse, a group of international financiers are plotting to steal Canada's water and send it to Mexico! As always, Jimmy talks tough but usually prefers to back down when the guns come out. At times, the narrative moves so briskly that characters just disappear without much explanation—presumably, they have been offed, but the show is generally too discreet to actually show us overt violence. Intelligence isn't much better than the average American crime drama, but it's fun to see Vancouver playing itself instead of subbing for an American city, and the pace never lags. This set includes 12 episodes, about 45 minutes each, plus some desultory extras.
Click Here to Talk About Movies at Metro's New Blog
Send a letter to the editor about this story.