04.15.09
home | metro silicon valley index | movies | current reviews | dvd review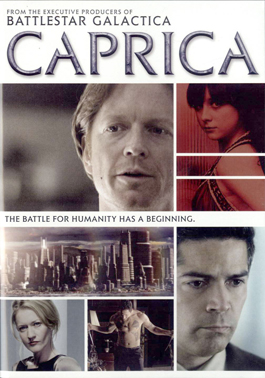 Caprica
One disc; $26.98; Universal Studios
By Michael S. Gant
Battlestar Galactica has finished its smashing run, but the mythology is rich enough to sustain a spinoff. Creators Ronald D. Moore and David Eick look back 50-plus years to trace the origins of the Cylon wars in Caprica, a 90-minute pilot for a new series. The first episode is being released April 21 on DVD and as a download; the show will air on the SciFi Channel sometime later this year or early in 2010. By itself, Caprica lacks the gravitas of BG, but as a teaser for things to come it should whet the appetites of fans. Two families suffer terrible losses in a terrorist bombing. Eric Stoltz (a little wan for a part that demands more oomph) plays Daniel Greystone, a robotics magnate whose teenage daughter, Zoe (Alessandra Toreson), returns from the dead as a computerized avatar. Turns out that she can be found inhabiting some virtual-reality game where all normal moral limits have been jettisoned—it looks like an ultralounge. Joseph Adama (Esai Morales), the admiral's father, is a fixer lawyer with shady contacts on his home planet, Tauron (populated with some Mafia types who seem to have detoured through an extraterrestrial version of New Jersey). The two men come warily joining forces in a search for answers to their personal tragedies. The story mixes stirrings of religious cultism among Caprican youth with the design and testing of the first, fateful Cylon model. Paul Malcomson, Trixie on Deadwood, plays Stoltz's wife. This version is billed as being unrated, which means that some of the toplessness seen in the club scenes won't be there when you tune in to the SciFi broadcast. The disc comes with commentary, video blogs and deleted footage.
Click Here to Talk About Movies at Metro's New Blog
Send a letter to the editor about this story.