04.15.09
home | metro silicon valley index | music & nightlife | band review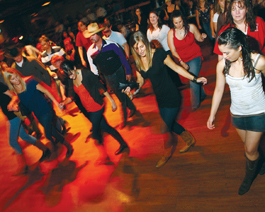 LEARNING LINE: Would-be dancers at the Saddle Rack get some instruction before storming the dance floor.
Rack 'Em Up
By Colleen Watson
WOMEN and men circled the dance floor; it was a sea of tight jeans and cowboy hats. They moved in unison, dipping and twirling to a country twang. Boots tapped in time next to sneakers and stilettos. The Saddle Rack in Fremont was packed. The floor was filled with people learning the latest line dance; the rest of the bar was just full. Wednesdays–Fridays, from 7:30 to 9pm, the Saddle Rack offers line-dancing lessons. I'm not the most coordinated person, but I took the plunge. I twirled and stomped and dipped and basically looked like an idiot, but most of the people there picked up the moves quickly.
After the line dancing, the night got going in earnest, and the students were able to put their newfound skills to the test. Sadly, I had forgotten everything I learned and could only participate when the electric slide began to play (thank you seventh grade P.E.).
The Saddle Rack is enormous, with a separate room for pool, three bars, two dance floors, a stage and an oxygen bar. And though the dancing eluded me, the people-watching was more than diverting. There was a woman celebrating her birthday; a man who had to have been at least 80 was asking all the young girls to dance (he was rarely refused). And while the dress veered toward country, there were some baggy jeans and even a sports jacket in the crowd.
The Saddle Rack
42011 Boscell Rd, Fremont; 510.979.0535.
Send a letter to the editor about this story.