04.15.09
home | metro silicon valley index | music & nightlife | band review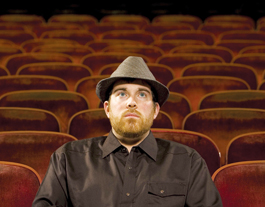 ALONE IN THE DARK: Chris Robley inhabits a fantastical musical world.
Chris Robley
By Steve Palopoli
WHEN ONE hears that Chris Robley has most famously been called the "Stephen King of indie pop," it's natural to imagine songs about rabid dogs, haunted hotels and reanimating graveyards. But if anything, Robley's fantastical and surreal musical world is more like King's nonhorror epic The Talisman—a sprawling alternate universe that seems to be just barely separated from our own, and sometimes, suddenly and unexpectedly, brings itself into alignment with the real world.
On his new album, Movie Theatre Haiku, Robley creates a glittering musical landscape that's not unlike Sufjan Stevens in the way it careens between pop structures and experimentation. "1, 2, 3, 4, it's my fault," he sings on the album's opener, "Waltz for Angelika Dittrich, "this album needed a waltz. But I just can't stand 3/4 time, 4, 5, 6, 7, 8, 9."
That's the thing about Robley: the surface darkness of the music is so in your face it almost has become a crutch for critics looking for a way into Robley's psyche. In truth, Robley's writing is also funny and even hopeful—the bubbly and bright "User-Friendly Guide to Change" on this record could have been written by Matthew Sweet, for Christ's sake. Like Tom Waits, even his most forlorn characters have a sympathetic quality that makes you root for them. Like the Eels, another band known for dark electric soundscapes, it becomes more and more obvious with each listen that Robley believes everything just might be OK.
CHRIS ROBLEY AND THE FEAR OF HEIGHTS play an in-store set on Monday (April 20) at 4pm at Streetlight Records, 980 S. Bascom Ave., San Jose. (408.292.1404)
Send a letter to the editor about this story.