04.15.09
home | metro silicon valley index | the arts | stage | review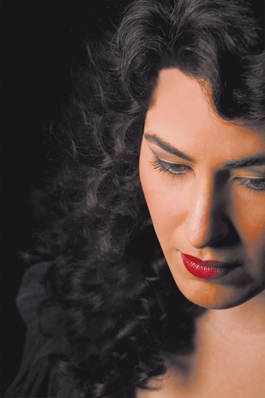 Photograph by Chris Ayers
FEMME FATALE: Cybele Gouverneur stars as Carmen for Opera San José.
Toreador
By Michael S. Gant
TOO BAD French composer Georges Bizet couldn't have hung on a little longer. His death, in 1875, a scant three months after the premiere of Carmen meant that he went to his grave without seeing the worldwide success the opera had achieved less than a year later. Nowadays, even the operaphobe instantly recognizes the catchy Toreador's Song. Based on a story by Prosper Mérimée, Carmen tells the story of a rambunctious Gypsy woman and the two men she tortures with her fickle love: hopeless Don José and dashing bullfighter Escamillo. This colorful tale has been fodder for many a movie, from the silent era to the Dorothy Dandridge sizzler Carmen Jones. Opera San José's new production, which brings the company's 25th season to a close, will be directed by one-time OSJ singer Sandra Bengochea. The title role will alternate between Cybele Gouverneur and Betany Coffland.
CARMEN, an Opera San José production, plays April 18, 23, 25, 28 and May 1 at 8pm and April 19, 26 and May 3 at 3pm at the California Theatre, 345 S. First St., San Jose. Tickets are $69–$91. (408.437.4450)
Send a letter to the editor about this story.