04.15.09
home | metro silicon valley index | columns | style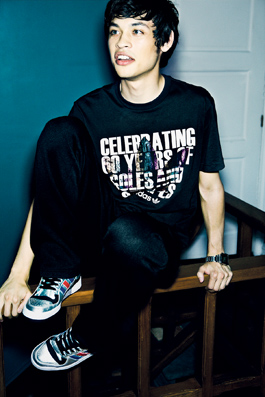 HANG TIME: Adidas keeps it stylin' with its peach tree silver watch.
Style
Time Flies
By Alexis Mendoza
THE TIME is now to integrate a little chronographic flair with spring fashion trends. Clocks and timepieces are popping up all over the runways in a whole range of styles and trends suited to both men and women. Of course, a good watch has always been useful to keep schedules in check, but why not wear one that will have people asking for the name of your designer rather than just the time?
These days, timepieces are not limited to one's wrist. Clocks can be found around the neck, dangling from the ears or even inset on a bauble ring. Vintage-inspired timepieces made into necklaces impart a worldly feel to any ensemble, like Urban Outfitters' stylish and inexpensive Grandpa's Pocket Watch Necklace. To go all the way vintage, try an old-school pocket watch, which can give an ordinary pair of pants some sparkle, not to mention giving their wearer no excuse for being late.
Back at the wrist, ordinary gold and silver bands are passť this season. It's all about color from head to toe, and that means watches, too. Designers from Adidas to FLuD are consulting the color wheel, matching and mismatching any hues they can find. Marc Jacobs has some crazy color combinations at work with his Icon Watch, sporting symbols with numbers.
Another glam factor to these tinted tickers is the chunky, blocked look, as championed by Nooka. The great thing about these watches is that they are fun and fashionable, but functional, too. Don't think of it as a gratuitous purchase, think of it as another excuse to be on time.
Check out Nordstrom for some of the best collections of vogue wrist wear. If you want more antique-inspired time wear, try the vintage-look specialists at Urban Outfitters. There one can easily find the perfect pocket watch or clock necklace. For that matter, many antiques stores carry the real thing from a variety of eras.
Send a letter to the editor about this story.