04.16.08
home | metro silicon valley index | columns | 5 things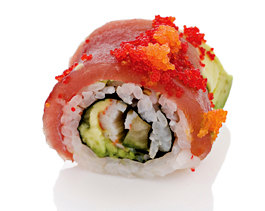 5 Things to Love
Top Sushi Bars
By Stett Holbrook
SILICON VALLEY has no shortage of sushi restaurants. Here are five of my favorites.
Hoshi One of the few (only?) places for blowfish, but the real star is the changing menu of specials. 246 Saratoga Ave, Santa Clara. 408.554.7100.
Kaygetsu This is a kaiseki restaurant that happens to have a tiny sushi bar that's presided over by a true master. Sushi is only available Tuesday and Sunday. 325 Sharon Park Dr, Menlo Park. 650.234.1084.
Kitsho Sit at the bar and don't you dare ask for a California roll. 19541 Richwood Dr, Cupertino. 408.873.1444.
Sushi on the Run Eight is a crowd at this tiny sushiya, but it's worth waiting for a seat. 114 N. Santa Cruz Ave, Los Gatos. 408.354.1125.
Sushi Tomi A Silicon Valley sushi mecca. 635 W. Dana St, Mountain View. 650.968.3227.
Send a letter to the editor about this story.