04.16.08
home | metro silicon valley index | columns | live feed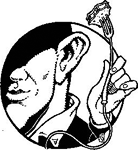 Live Feed
Pinot Envy
By Stett Holbrook
THIS YEAR'S Pinot Paradise event was another barn-burner. Held for the second time at Campbell's Villa Ragusa, the fourth annual celebration of the noble pinot noir grape drew a thirsty crowd willing to stand sometimes four deep to get a taste of some great wines. Twelve local restaurants offered samples of their handiwork as well.
The sold-out March 30 event raised more than $10,000 for the Santa Cruz Mountains Winegrowers Association, money that will go back into promoting the appellation and next year's event. Thirty-five wineries participated this year, up from 24 in the first year. All the heavies were there—Santa Cruz Mountain Vineyard, Thomas Fogarty Winery, Bargetto Winery, Hallcrest Vineyards, Storrs Winery—long-established wineries that continue to produce some excellent pinot noir. (But where was David Bruce Winery, one of the pioneers of pinot noir in the Santa Cruz Mountains?) Although I enjoyed tasting wines from these well-known wineries, the fun part for me was discovering some of the newer and lesser-known wineries of the region. Here are three of my favorites.
Heart o' the Mountain 2005 Pinot Noir
This is a sweet little family-run winery from Scotts Valley with a great story to tell and an equally great wine. The estate-produced wine is grown on property that was Alfred Hitchcock's summer house from 1940 to 1974. Grape production on the property dates back to the late 1880s. The Brassfield family bought the property in 1978 and has only now released its first vintage, just 180 cases grown on what was then 3.5 acres of vines. The 2006 will be released in August. The 2005 is definitely on the lush, fruit-forward end of the spectrum with ripe flavors of plum and raspberry, but it still has great balance and delicacy and a bit of the intrigue that makes pinot noir such a fascinating wine to drink. The wine goes for $48 a bottle and is sold directly from the winery. If you want some, get a move on. It's selling out quickly. Check them out at www.heartothemountain.com.
Muccigrosso Vineyards 2005 Pinot Noir
Talk about small production. This tiny winery off Bear Creek Road in Los Gatos makes only 150 cases of each pinot vintage. For me it was an atypical example of the grape. Instead of grace and elegance, the 2005 Santa Cruz Mountain Pinot Noir offered gobs of rich, ripe fruit and spice and had me thinking of syrah as much as pinot. Pinot purists might scoff at the über-California style of this wine but I found it luscious and seductive. A great first date wine. $35 a bottle. www.muccigrosso.com.
Black Ridge Vineyards 2006 Pinot Noir
The just-released second vintage from one of the Santa Cruz Mountains' rising stars was the top pick at a recent tasting held by the Santa Cruz Mountains Winegrowers Association for winemakers and writers I attended and I liked it just as much the second time around at Pinot Paradise. Grown on vineyards above Black Road (look for them in the foothills off to the right as you pass Lexington Reservoir heading to Santa Cruz on Highway 17), this elegant wine is decisively feminine—sexy and voluptuous, but with its dignity intact. It's loaded with rich flavors of black cherries, mint and spice and boasts nice acidity and a lush finish that goes on and on. This is a winery to watch and a wine to drink. With only 183 cases made, get some quickly. $39 a bottle. www.blackridgevineyards.com.
Mea Culpa
In this week's review of Xanh restaurant, I discuss the dynamism of Silicon Valley's contemporary Vietnamese restaurants. I got another lesson in just how dynamic they are when I learned that two restaurants—Onyx and Saigon 75—had closed after short runs. I listed both in a roundup of modern Vietnamese restaurants last month. It seems like I just drove by the two Santa Clara Street restaurants recently, but my memory did not serve me well and I ignored the most basic rules of journalism—check your facts, stupid! And I called Saigon 75 "Saigon 77"—my bad indeed. I regret the errors.
Send a letter to the editor about this story.