04.16.08
home | metro silicon valley index | movies | current reviews | film review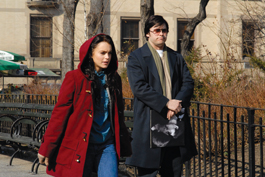 MISFITS: Jared Leto's overfed Mark David Chapman takes a stroll with kindred Beatles spirit Jude (Lindsay Lohan) in 'Chapter 27.
The Walrus
'Chapter 27' tells us everything we didn't want to know about the man who shot John Lennon
By Richard von Busack
JARED LETO—a name that had to come straight from the DC Universe—deliberately put on 70 pounds to play Mark David Chapman, the nutter who shot John Lennon in December 1980. But he must have avoided those fattening foods that made Philip Seymour Hoffman both large, and largely talented. The old game of "Gorging for Oscar" is the most fearsome thing actors can do to themselves ever since De Niro porked up for Raging Bull. And watching the lamentable, nay, hideous Chapter 27, directed by J.P. Schaefer, it is clear that De Niro's Travis Bickle was a performance that Leto couldn't get enough of. The purpose of Chapter 27, based on a bio of the killer by Jack Jones, ought to get us under the skin of Chapman. Instead, Leto—equipped with a sibilant Truman Capote accent and many, many quotes from The Catcher in the Rye—does nothing to interfere with the general perception that Chapman was an insufferable creep. This failure to make Chapman's mania something the viewer can understand is the essential failure of the movie. Leto's overrehearsed and overwritten performance is like a long date with Casey Affleck's Bob Ford in The Assassination of Jesse James by the Coward Robert Ford. It's a freak show, with that bulk and the unflattering '70s goggles, the quickness to temper and his scene of a last date with a prostitute (as played by Jeane Fournier, she'd have been kicked out of a German Expressionist film for being too glum). Worse, Leto's Chapman has the pose of being a latter-day Holden Caulfield—oh, that book, the red flag of the teenage snob. (I'll tell you where the ducks go in winter; they migrate. Might have learned that if you stayed in prep school instead of skylarking around Manhattan.)
Showing off his new flesh, Leto lolls in jockey shorts. Later, he walks the streets muttering about The Wizard of Oz and Jeebus. His sounding board is a fellow Beatles fan who hovers around the front of the Dakota: Jude, she is called, and the actress playing her gets an "and Lindsay Lohan" credit in the titles. Lohan is adequate but stiff as a mackerel. Perhaps she wasn't sure what the star/executive producer was going to throw at her next? In such a performance, Leto doesn't have to react to someone else's acting. It's clear now that the assassin, and not the handicapped person, is the dream role of the vainglorious actor.

CHAPTER 27 (R; 84 min.), directed by and written by J.P. Schaefer, based on a book by Jack Jones, photographed by Tom Richmond and starring Jared Leto, opens April 18 at Camera 12 in San Jose.
Send a letter to the editor about this story.