04.16.08
home | metro silicon valley index | movies | current reviews | film review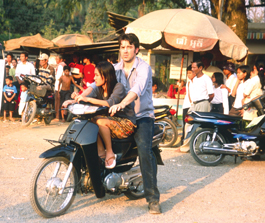 RIDE-ALONG: Ron Livingston tries to help a Vietnamese girl (Thuy Nguyen) in 'Holly.'
The Selling Fields
Earnest 'Holly' is shocked, shocked that there are child prostitutes in Cambodia
By Richard von Busack
GUY MOSHE'S issue film Holly stirs up a cavalcade of mixed emotions, befitting a movie that's never quite sure of itself. The caught-on-the-fly street scenes and muddy riverscapes of urban Cambodia, one of the world's most wretchedly poor countries, speak for themselves. The film is produced by a company that is also doing a documentary on Cambodia's unhappy new reputation as a destination for pedophiles. The tone is never truly melodramatic. The possible height of sexual explicitness is a poorly directed scene where a pair of toddlers are offering themselves to a Westerner. ("Yum-yum only! No boom-boom, they're too young," orders their pimp.) Otherwise, the molestation is confined to a peephole shot, through which we see a girl's leg arranged by a client's hand.Holly is played by the talented, but visibly overage, actress Thuy Nguyen (Saigon, U.S.A., Journey From the Fall). Holly is a 12-year-old Vietnamese girl living in Cambodia, after having been stolen from her village by organized criminals. She is recaptured after an escape and taken back to the brothel. Moshe cuts to the story of an American expatriate, Patrick (Ron Livingston of Office Space), who has been living for 15 years in Phnom Penh. His boss, Freddie (Chris Penn), a smuggler, sends Patrick out on assignment. When Patrick's motorcycle breaks down, he is stuck on the road for the night and rents a room out in a brothel, because there are no nearby hotels. That's where he meets and befriends Holly, who comes with the room.
The movie's commercial ambitions needed a Westerner. Livingston, usually a lighter actor, tries out Black Irish Colin Farrellisms; there are certain leading men who try to play tougher men by growing some beard stubble and staring moodily into their drinks. Try as Livingston might, he can't make this conceit of the Pepe le Moko of Cambodia work. True, he is believably tender in the scene where he tries to shock Holly out of pretending that she doesn't remember him. But Patrick has been in Cambodia for 15 years, and he hasn't heard about underage prostitution? To explain his motivation, he has to give a speech about how this was the first time he had looked into a street urchin's eyes-nice try, but no sale. Brief but fragrant moments with Udo Kier reveal the sensationalism beneath the cryptodocumentary surface. Kier, playing a sex-tourist, scopes some underage girls and declaims, "I have never felt so close to heaven. Did you see the one in the black dress? Like a wildflower, growing in a harsh land." (Once he was Warhol's Dracula, seeking the blood of "wirgins," and apparently he's still in hot pursuit.) Virgine Ledoyen plays an anti-child-abuse campaigner who gives Patrick the stats that 30,000 children are currently being prostituted in Cambodia. "Next year, it could be 60,000," she claims; she might be staring right at the camera, asking us what we in the audience propose to do about it. "Write your fucking congressman," Penn urges Patrick later on as they sit by the Mekong. Forget it, Paddy, it's Cambodiatown. The Penn line is an attempt to make us think we're not watching the do-gooder movie we're watching.

HOLLY (R; 114 min.), directed by Guy Moshe, written by Mose and Guy Jacobson, photographed by Yaron Orbach and starring Ron Livingston and Thuy Nguyen, opens April 18 at Camera 3 in San Jose.
Send a letter to the editor about this story.