04.16.08
home | metro silicon valley index | music & nightlife | band review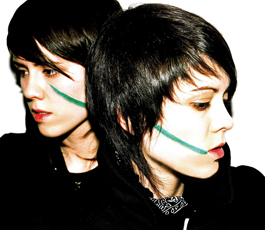 The Green Stripes: Even twins get in marker fights.
Twin Talents
Tegan and Sara is the funniest act in indie rock
By Mike Connor
TEGAN AND SARA's latest album, The Con, was in the running for a Juno award this year for "Best Alternative Album" in Canada. The Arcade Fire's Neon Bible took the prize, but when I talked to Tegan Quin for this interview, she was going to attend the ceremony by herself.
"I have not prepared a speech because I don't think I'm gonna win," says Tegan from her home in Vancouver, "but if I do win, I intend on thanking everyone but Sara." The 27-year-old twin sisters spend a lot of time on the road together, but their homes are far apart—Sara lives on the other side of the country in Montreal. Tegan says the setup is good for their song writing. "Even when we lived in the same household when we were kids and we started writing when we were like 15, we used to write separately," says Tegan. "I think for the best for us. I mean, I can't imagine sharing that duty with anybody."
A live Tegan and Sara show is often a sort of bonding experience—many of their songs are intensely personal, and they spend more time than most bands connecting with the audience between songs, often making jokes at one another's expense. "I remember our first proper show that the banter came out," says Tegan. "Afterwards I started feeling like, oh, we shouldn't talk so much. But we were so used to playing shows for our friends and family that that's what we would do."
A few years later, they made a demo using studio time they won at a local battle of the bands contest. Within a year they were performing at the Lilith Fair, and a year after that they performed at the Bridge School Benefit alongside Tom Petty, Beck, Dave Matthews, the Red Hot Chili Peppers and the Foo Fighters. How cool were they then? On a scale of "shorts and flip-flops" to "rock & roll animal," well, they wore shorts and flip-flops. They were only 20 years old then and still getting the folk out—1999's Under Feet Like Ours had a lot in common with Ani DiFranco's freaky mid-'90s femme folk anthems, except for a song called "This Is Everything," a gutsy power ballad that finishes with an electronica-inspired dance beat.
On If It Was You (2002), they hit their current stride and found their voices—or, more specifically, a tinny, early–Joan Jett timbre in their voices that cuts through their fuller rock sound and makes for striking vocal harmonies.
2004's So Jealous is full of uniquely rendered sentiments, from self-loathing ("I feel like I wouldn't like me if I met me") to brokenheartedness ("How do you know/ when to let go?/ Where does the 'good' go?"), but the show stopping track on the album is "Walking With a Ghost," a staccato, six-chord rocker that was covered by the White Stripes, and later mashed up with Mylo's "Paris 4 Hundred" into a candy-flipping club hit.
"I love hearing people's interpretations of our music," says Tegan. "I heard a band called Broken West who covered 'Back in Your Head.' It sounds nothing like us, but there was a moment when I was like, 'Sara, did you copy this song off this band?'"
Their latest album, The Con, produced by Death Cab for Cutie's Chris Walla, trades in the polished pop for grittiness and eccentricity. The title tumbled out of Tegan's mouth by accident while trying to name it, but her sister was against it. According to Tegan, Sara was pushing for Portland—the name of the city where the album was recorded. "I think Sara thought it was very moody," says Tegan, "but I pictured the cover as this like hand-drawn bridge, or like a dock in water, and I was like, 'What are we, 80?' No."
TEGAN AND SARA perform on Tuesday (April 22) at Rio Theatre, 1205 Soquel Ave., Santa Cruz. Tickets are $26.50–$30. (831.429.1812)
Send a letter to the editor about this story.