04.16.08
home | metro silicon valley index | the arts | stage | review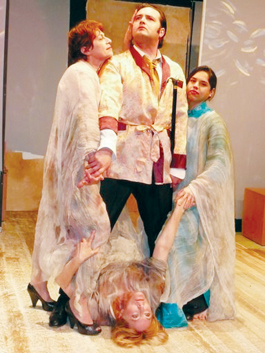 CUTTING UP: The Pear Avenue players go for laughs in this year's 'Pear Slices.'
Juicy
Pear Avenue presents eight short 'slices' of theater in one night
By Marianne Messina
THIS YEAR'S "Pear Slices" production at the Pear Avenue Theatre is a humorous eight-pack of 20-minute plays with quirky premises and surprisingly well-rounded arcs. Written by a handful of local playwrights and performed by an astute, versatile cast, the plays roll smoothly from one to the other by way of music, created by Michael Pease, which sets upcoming moods and themes. For example, the Beatles' song "Piggies" ("Have you seen the little piggies crawling in the dirt?") introduces Caryn Huberman's play Pig Me, in which a woman (Corrie Borris) befriends the articulate pig (Camila Frausto in pig nose) created with her DNA to be her future organ donor. In an acting tour de force, eight actors recycle through wildly varied characterizations; most ubiquitous is the all-purpose Ray Renati.
In V.B. Leghorn's play Miss Direction, Renati is a man in midlife crisis and the object of his Global Positioning System's affections (Frausto makes an amazing Grace, the GPS, producing the familiar digital-voice hitches to a T). A few moments later, Renati is in uniform guarding and abusing Luke (Matt Sameck), a criminal about to undergo an experimental cure in The Near-Death Experiment by Richard Medugno. Suddenly, in Ross Peter Nelson's Cheese Cubed, Renati plays a mop-haired film crewman working for Jessica's (like Sally Jessie) nasty talk show, and Frausto, the formerly bodiless GPS, has become the glamorous talk-show host with an underhanded modus operandi. She pits an unsuspecting art-gallery expert (Monica Cappuccini) against a former nemesis (John Romano), a pretentious artist.
Romano, who also plays the withdrawn, work-focused doctor testing his hypothesis in The Near-Death Experiment, goes on to play an extroverted, self-congratulating Salvador Dali—red sash, flowing cape, scrolling mustachio—in Allegorical Construction With Ectoplasm and Soft Cheese (also by Nelson). Romano's chest-thrusting Dali is as fascinating as Cappuccini's Gala, a brooding, dominant woman in flowing dark hair, fluttery gold dress and black beads (costumes by Mae Heagerty Matos and Gail Farmer). With two projected images, the play draws a comparison between a Dali painting and a photograph from the 1906 San Francisco earthquake, suggesting how one inspired the other by way of a few "ectoplasmic" (deceased) visitors.
Directed either by Kristen Lo or Michael Pease in no particular order, the plays have simple blue-box sets, dressed with the occasional coconut palm tree (Ron Gasparinetti, set design) and ending with a king-size bed for the Dali slice and The Perfect Match. In the latter, in a kind of reverse psychology, a woman picks up a man for no-strings sex, and their mutual distaste for forming any kind of bond becomes their special bond. Possibly the most serious "slice," Paul Braverman's The Castaway, manages to draw us into the inside of a bipolar man's worldview. Gradually, as Donny's (Sameck) interpretation melts into the "real facts," the play shifts from funny to poignant. Years past have included the sinister and the sad among the eight Pear Slices, but this year's fare keeps it light—other than The Castaway and a sentimental moment in Pig Me—and instead, the slices draw their eight engaging journeys from the ironic, the clever and the revelatory.
PEAR SLICES, eight short plays presented by Pear Avenue Theatre, plays Thursday–Saturday at 8pm and Sunday at 2pm at the Pear, 1220 Pear Ave., Unit K, Mountain View. Tickets are $15–$30. (650.254.1148)
Send a letter to the editor about this story.