April 18-24, 2007
home | metro silicon valley index | columns | silicon alleys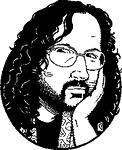 Silicon Alleys
Another Chuck On Fire
By Gary Singh
IT'S ABOUT TIME somebody came out and finally once and for all ridiculed everything that is reality television and all the current overdone game shows and the sheeplike herds who watch these blasted things. Turns out that person is one of the pioneers of reality TV itself, Chuck Barris, whose new novel, The Big Question, methodically lampoons and slaughters the entire entertainment industry. It's the tale of Barris envisioning the greatest game show of all time, where the contests vie for $1 million, and whoever loses gets executed on camera, a la Saddam Hussein.
Barris is the most qualified person anywhere to shed light on the absolute idiocy of television, the bizarre human quest to take part in game shows, and by far the most common of the seven deadly sins: greed—and then throw it all in a novel. Since I actually auditioned and failed for both the regular Jeopardy and Rock 'n' Roll Jeopardy, I can totally relate.
Now, to clarify: Barris was the host of The Gong Show in the '70s and is also blamed for The Dating Game and The Newlywed Game a decade earlier. As with all the other television geniuses written off as idiots, Barris was decades ahead of his time. Think about it. Look at what reality TV is now: Millions of Amurricans sit there with their feet on the Wal-Mart coffee table and watch videos of some police chase in Miami somewhere or some idiot holding up a 7-Eleven. And people in the office gather at the water cooler and discuss Haley Scarnato's wardrobe.
Barris had all this pegged 40 years ago, and my connection to the dude comes from a prank that took place at his reading for Confessions of a Dangerous Mind a few years ago in San Francisco. A regular guest on The Gong Show was the Unknown Comic—the guy who put a paper bag over his head, with holes for the eyes and mouth, and then told jokes with Barris onstage. So, for the Barris reading, a bunch of pranksters showed up dressed like the Unknown Comic, complete with bags over their heads and horrible '70s blazers, and lugged a gong with them, rented from Lemmon Percussion in San Jose. The prank was on the audience, not Barris, as everyone in the crowd kept waiting to see when the pranksters would gong him, but they purposely never did—a stunt that completely tweaked everyone's reality. Certain folks were even trying to wrangle the hammer away from the pranksters in order to hit the gong, but it wasn't allowed.
At that event, Barris philosophized about a potential game show called Greed. I don't remember exactly what he said, but the premise was something along these lines: See how much money it would take to get someone to kick a dog across the stage. Now, just ponder that idea for a sec. Would there exist assholes who would go up onstage and actually compete for that? All cynicism aside, I think there probably would be. Ask yourself this: If you got paid $1 million to kick a Chihuahua across the stage on television, would you do it?
At that same reading, an audience member asked Barris if there existed any reality shows currently on TV that he wishes he had thought of. He immediately said no, stating that back in the '60s when he did The Newlywed Game, it was four couples, eight people and a refrigerator. That's it. They didn't need anything else. In fact, they weren't even allowed to say the words "make love" on the air. They had to say "make whoopee" instead. He pointed out that nowadays, on shows like Survivor, the contestants are asked to do stuff like eat a horse's rectum. Back in Barris' days, you could never have imagined saying that on the air. So have we advanced as a society or have we gone backward? You decide.
Contact Gary Singh or send a letter to the editor about this story.