April 18-24, 2007
home | metro silicon valley index | silicon valley restaurants | review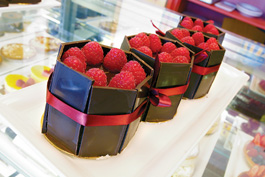 Photograph by Felipe Buitrago
Sugar Walls: A chocolate fortress holds in mousse and berries from Sugar Butter Flour.
Feats of Sweet
Sugar Butter Flour is Silicon Valley's top new place for treats
By Stett Holbrook
DESSERTS are the weakest link in South Bay restaurants. Hiring a pastry chef is often too costly, so restaurants just crank out a few standards for desserts and save their creativity for the rest of the menu. The result is predictably boring and uninspired. Sit down in just about any white tablecloth restaurant in Silicon Valley and chances are the dessert list will include tired workhorses like crème brûlée, molten chocolate cake, chocolate mousse and cheesecake.
Some restaurants have given up on making desserts entirely and simply farm them out, usually with mixed results. During a visit to Restaurant O last year, I was skeptical when I learned the Campbell restaurant outsourced its desserts. But my doubts disappeared after the first bite of the rich and moist upside-down polenta cake made by wholesale baker Butter Sugar Flour. The multilayered honey rosemary cake, while it was served too cold, was equally good.
So I was stoked when I heard Sugar Butter Flour was opening a retail shop of its own in Sunnyvale. Open for about six weeks now, the bakery's desserts and pastries go well beyond the same old humdrum sweets found at most restaurants and bakeries. Given the talent behind the bakery, that's not surprising.
Irit Ishai, the opening pastry chef for Manresa, owns the bakery with two partners. In addition to Manresa, Ishai learned the finer points of chocolate making at Fleur de Cocoa, a Los Gatos bakery that is arguably Silicon Valley's best. While working at Fleur de Cocoa, Ishai met Kathleen DeManti. When Ishai became pastry chef at Manresa she hired DeManti as her assistant. In addition to Manresa, DeManti also worked at Seven Restaurant and Lounge in San Jose.
Ishai left Manresa in 2004 to start Sugar Butter Flour with DeManti and her boyfriend, Matt Ives. Ives also worked at Manresa and was sous chef at Seven. That's a lot of culinary firepower.
Sugar Butter Flour occupies small a space in a generic shopping center, but the pastries are anything but run-of-the-mill. The bulk of the bakery's display case is given over to individually sized cakes, tarts and other desserts that range from $3.50 to $4. (Larger size cakes and desserts are available as well.)
The bakery's chocolate skills are particularly strong. Look at the artistry behind the chocolate marquise and or the delicately chocolate-wrapped tiramisu. They're almost too pretty to eat. Almost. I especially liked the chocolate hazelnut Napoleon, a layered rectangle cake that's infinitely rich and creamy and adorned with candied hazelnuts and vertical triangle of chocolate. The bakery also makes beautiful and delicious chocolate candy.
Carrot cake is a familiar dessert, but Sugar Butter Flour's version is the best I've had. Four layers of moist cake with the subtle crunch of shredded carrots and walnuts are gilded with a rich cream cheese filling that takes the dessert deliciously over the top. And they still make that great honey rosemary cake I had at Restaurant O.
The bakery's pastries and breads are just as good. I challenge you to find a better croissant in the South Bay. The flaky pastries ($2) are crispy, light and wonderfully buttery. The double-baked almond croissant ($3.50) is incredibly good. Crunchy and shatteringly crisp on the outside, the pastry conceals a deliciously creamy and rich almond paste filling. I can't think of a better match with a morning latte.
I still have memories of the icebox cookie my great grandmother served me in the late 1970s, so I was pleased to see them here. The simple rolled butter cookies (90 cents) were as good as I remember. Be sure to check the many flavors of the tiny, pastel-colored French macaroons (90 cents). The half-dollar-size cookies come in flavors like pistachio, coffee and caramel. Made with almond flour, the cookies crunch at first bite and then dissolve in your mouth.
The bakery also makes several excellent savory items. The croque monsieur ($6.50) gets my vote for most decadent sandwich. The thick sandwich is made with fresh-baked white bread layered with sliced ham and draped with melted Gruyère cheese. I also liked the open-faced chicken, pesto and chèvre sandwich served on housemade focaccia ($6.50). The bakery also makes quiche ($6.50) and mini focaccia pizzas ($4.50).
Silicon Valley's drought of quality desserts is over. Next time I'm out to dinner and faced with a choice of the usual suspects for dessert, I'm tempted to pass and head to Sugar Butter Flour instead.
---
Sugar Butter Flour
Address: 669 S. Bernardo Ave., Sunnyvale.
Phone: 408.732.8597.
Hours: 6:30am-6:30pm Mon-Fri: and 8am-4pm Sat-Sun.
Cuisine: Bakery
Price Range: 90 cents and up.
Send a letter to the editor about this story.