April 18-24, 2007
home | metro silicon valley index | the arts | books | review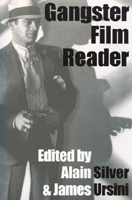 Gangster Film Reader
(Edited by Alain Silver and James Ursini; Limelight Editions; 410 pages; $20 paper)

The critics excerpted in Gangster Film Reader note that the genre basically began with just three early-1930s sensations—Scarface, Public Enemy and Little Caesar. The Production Code quickly dampened down the raw violence of these murderfests and shifted the emphasis from lawbreakers to lawmen. Eventually, the genre resurfaced in transformed fashion in the larger dark pool of film noir but did not return in full flower until The Godfather, leading to the late, almost ironical florescence of GoodFellas and The Sopranos. This wide-ranging selection from the 1940s to the present, chosen by noir experts Alain Silver and James Ursini, begins with Robert Warshow's influential 1948 essay, "The Gangster as Tragic Hero," which sets the genre within the matrix of mass culture. Essays by Robin Wood, John Baxter, Andrew Sarris and Stuart M. Kaminsky study the various facets of the 1930s examples, among them fear of immigrants, Depression-era antiauthoritarianism and psychosexual undercurrents (Tony's lust for his sister in Scarface, for instance). Colin McArthur does the scut work of genre studies, identifying the "recurrent patterns of imagery" that help define gangster films. Tony Williams' survey of British gangster films opens up a whole new world, although, sadly, most of the films he mentions don't seem to be out on DVD. Several essays wrestle with just how critical of capitalism The Godfather saga really is, while Tricia Welsch offers a welcome woman's perspective on Prizzi's Honor, but Ronald Bogue's analysis of Brian De Palma's Scarface traffics in academic nonsense: "De Palma, in sum, is an oppositional postmodern artist commenting on Baudrillardian postmodern culture from a theoretical position that is, like Lyotard's and Deleuze-Guattari's, decidedly postmodern." Who knew? But even the average fan will find lots of films to add to his or her Netflix queue.
Review by Michael S. Gant
Send a letter to the editor about this story.