April 18-24, 2007
home | metro silicon valley index | the arts | stage | review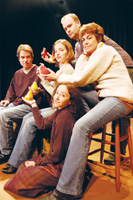 Fruit of their labor: Some cast members of 'Pear Slices' (clockwise from right: Stephen Massott, Nicole C. Hastings, Michael Champlin, Monica Cappuccini and Elizabeth Lowe) look on the light side.
A Slice of Humor
Pear Avenue's annual night of miniplays leans to the comic
By Marianne Messina
THE EIGHT original microplays collectively known as Pear Avenue Theatre's Pear Slices are separated this year with a progression of answering-machine messages that suggest a ninth story line (penned by Sharmon J. Hilfinger). Our emcee for the evening, Elizabeth Lowe, leads us to believe that not only does chaos reign backstage but that behind the scenes the company is desperate to keep an unsavory intrusion at bay. Though it takes a while to clarify, this device serves as a kind of palate cleanser between each unique "slice" of theater. Not only that, but as actors slide the office chairs of The Alpha Bindleman into the restaurant table of Lunch at the Café Ova, the message machine's carryings-on about a drunken performer on the loose smoothly distract the audience from the mechanics of set change.
Each of the 20-minute plays is surprisingly complete, lean and compact. A central joke culminates in a neat punch line; a tension exhausts itself; a question receives an answer. With nuanced acting and smooth timing, the two directors (Susannah Greenwood and Troy Johnson) managed to fashion eight very polished productions. One of the most versatile actors, Nicole C. Hastings, goes from being an uptight teacher and Christian Creationist in Fruit of the Gods to a picketing hooker in Virtue L. Sex. In Lunch at the Café Ova, Hastings plays a hard-working, lifestyle vegan meeting her spoiled, affluent friend Tiffany (Liza Zassenhaus) for lunch. Stereotypes quickly melt in ambiguity, and both actors keep us guessing about this tentative relationship.
Probably the standout funniest play on the program is Virtue L Sex by Richard Medugno, with its cyberlexicon and the whimsical brilliance of Monica Cappuccini playing bordello barker for cyberwhores (Greenwood directs). Part impresaria, part dominatrix, Cappuccini whips up business and slaps down protests from the violet-haired human whore (Hastings). She also shudders down to the tip of her riding crop at words like "commitment" and "attachment." Medugno makes language delicious. And he's not the only one. Playwright Ross Peter Nelson lets the characters of Cobalt 60 speak in poetry. In this tensely gloomy play (Johnson directing), a cancer patient's life ends as a complex of interactions between him and his nurse (Cappuccini) and their spirits (black-clad Stephen Massott and Hastings). "Night doesn't pass," says the patient's spirit, "instead it circles like a wolf." Outnumbered 7-to-1 by comedy, Cobalt 60, demands a conscious shift of gears, so it's well placed directly after intermission.
As the other plays capitalize on humor, some, like Paul Braverman's The Alpha Bindleman, go to hilarity right away. Bindleman's (Matt Sameck) boss (Michael Champlin) hits him with a preposterous proposition, and from there the play maintains maniacal humor as it piques curiosity: How will Bindleman's boss and HR department (Elizabeth Lowe and Jonathan Marballi) justify this crackpot idea? Other plays establish a plausible story then twist it towards absurd, like the confrontation between school and parents over Creationist science in Fruit of the Gods. Some plays, like Margy Kahn's Café Ova, rely on touchy relationships. In Ross Peter Nelson's Animal Planet, Fred (Michael Champlin) is irritated by his wife's sage incense and mung bean cooking. Meanwhile, his wife, Amanda (Elizabeth Lowe drowned in pink) and her feminist yoga group seek to purify themselves from Fred's manly toxicity. Lowe and Champlin squeeze endless humor out of cheery smugness and confident condescension. Perhaps less emotionally rangy than previous Pear Slices, this is still a fun night of theater without a bad slice on the Pear.
Pear Slices, a Pear Avenue Theatre production, plays Thursday-Saturday at 8pm and Sunday at 2pm through April 29 at the Pear, 1220 Pear Ave., Unit K, Mountain View. Tickets are $10-$25. (650.254.1148)
Send a letter to the editor about this story.