April 19-25, 2006
home | metro silicon valley index | columns | silicon alleys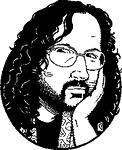 Silicon Alleys
The Rise and Sprawl of San Jose
By Gary Singh
San Jose is nothing but 20 different small towns barely duct taped together with no common connection whatsoever. Nobody at Almaden Expressway and McKean Road cares what goes on in Alum Rock, and vice versa. And yet, there exist many wily folks who've spent years scheming to further expand the nauseating sprawl by "developing" Coyote Valley and North San Jose. When this eventually happens, San Jose will become nothing but 22 small towns duct taped together with no common connection whatsoever. Yes, persons in high places actually believe this will create a more "thriving" San Jose, or bring more attention to this town from outside. It just wasn't enough to knock Detroit down to the 11th-largest city. We must set our sights on Dallas instead, which is the ninth-largest city. It'll only take 70,000 more people, that's it. Look out Dallas, here we come.
I'm starting to believe that San Jose is so attention-starved that it's become pathological. That's why we're constantly beaten over the head with the "10th-largest city" hysteria or the "Capital of Silicon Valley" hysteria. Here's somewhat of an example: The mayor's website includes a link to a November 4, 2005, travel piece on San Jose from the New York Times. Basically, it's one of those service-oriented "72 hours in whatever city" articles. The first thing you see is a photo of the Plumed Horse restaurant in Saratoga. And here's the lead: "San Jose passed San Francisco in population over a decade ago, but even though it's the high-tech capital of Silicon Valley, it still has a hard time competing for attention with its brassy, glamorous neighbor to the north." The author then goes on to mention exactly what you would expect: The Winchester Mystery House, the Rosicrucian Museum and Original Joe's. He also mentions JJ's Blues, saying "you would probably have to be in the nondescript neighborhood for some other reason and then happen on it by accident."
Also on the mayor's website, one finds a link to a Reader's Digest article by Derek Burnett naming San Jose as the "second-cleanest" city in America—yet another meaningless claim. But hey—at least we beat out San Francisco! They rated S.F. as the fifth-cleanest city. The article also lists San Fran as representing Alameda, Contra Costa, Marin, San Francisco and San Mateo counties. Strangely, the article lists San Jose as representing San Benito and Santa Clara counties, in that order. So I guess the never-ending sprawl has now tied us to Hollister, perhaps shedding light on recent predictions that Silicon Valley will eventually stretch from Sacramento to Fresno.
An interesting side note: on another website (www.epodunk.com), San Benito County is described as being "in the San Jose-Sunnyvale metro area." Of course, it's easy to ridicule San Jose for always trying to piggyback onto something else with its inane slogans and stats and whatnot, but now San Benito County is simultaneously trying to piggyback onto us. That's how preposterous the sprawl has become. And S.J. officials have hijacked a perfect buzzword for it all: Smart Growth.
Always one to emphasize the negative, allow me to quote from the Reader's Digest article: "Besides the high-tech contamination, the Valley's rapid growth resulted in extensive sprawl, which means traffic, and air pollution—trapped by surrounding mountains." By "contamination" he means corporations polluting the environment, and after discussing how environmental movements pressured the hi-tech companies to end their polluting, Burnett ended the San Jose part of the article with this: "The bottom line for San Jose: It's a city now known nationwide for its clean streets, fresh air and healthy lifestyle."
Sorry, pal. I can rattle off several parts of San Jose where you won't find anything remotely resembling "clean streets, fresh air and a healthy lifestyle." But it doesn't matter in the end. S.J. bureaucrats truly believe the more spread-out, nondescript neighborhoods, the better. Viva la sprawl!
Contact Gary Singh or send a letter to the editor about this story.