April 19-25, 2006
home | metro silicon valley index | the arts | dance | preview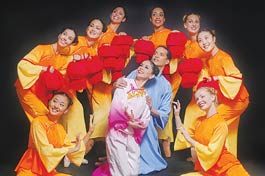 Photograph by John Gerbetz
Reflections: Karen Gabay and Raymond Rodriguez (center) star in 'Moon Reflections on Crystal Spring.'
Folk Movements
Yong Yao choreographs a dance about a great Chinese folk musician for Ballet San Jose Silicon Valley
By Marianne Messina
AS HE WATCHES dancers Karen Gabay and Raymond Rodriguez rehearsing his choreography for Moon Reflections on Crystal Spring, Yong Yao holds his arms akimbo, tightly to his chest. Oddly, he is almost exemplifying an aspect of classical Chinese culture that he says he finds implicit in Chinese dance forms—that, traditionally, women weren't allowed a lot of expressive options.
"For girls here, it's different. They want to say something—they just say it," Yao explains. "It's very open. But for Chinese girls, it's very, very inside."
Rodriguez and Gabay traverse large spaces lightly, swiftly, dancing the roles of the great Chinese folk musician Ah Bing (born Yan-Jun Hua) and Xiao Hua (fashioned after Ah Bing's wife, Chui Di). As Rodriguez lifts Gabay from one side of his body to the other, Yao may follow them with his eyes, nod his head, interject a cry of approval—yet his arms never leave that hugged position.
"Girls, even if they're really excited, and she really likes him, she's still," Yao explains. "You can see her eyes, but she doesn't move much."
Ballet San Jose Silicon Valley artistic director Dennis Nahat, who invited Yao to set Moon Reflections for the company's season finale, remarks that for him Gabay's demeanor shows an inherent respect rather than passivity.
Ann Woo, choreographer and director of Chinese Performing Artists of America, adds that she sees the free movement of Gabay and Rodriguez in this part of the work as a sign that they are children of 10 or 12, before the age at which boys and girls would be separated.
Just so, life will intervene in the friendship between Ah Bing and Xiao Hua/Chui Di—she will marry and become widowed; he will join a monastery only to go completely blind by the age of 33. In Ah Bing's real-life story, the musician is driven out of the monastery into a life of poverty after he goes blind. Making Ah Bing and his future wife childhood friends who reunite, Yao's choreography omits some nasty monastic politics and emphasizes the soul-mate factor.
Still, the real story is no less romantic. The widow Chui Di does indeed take the blind musician in, devotes the rest of her life to caring for him and even dies within a month after his death.
In addition to Moon Reflection, which features live er-hu (the Chinese stringed instrument that, in its sublime moments, can sound like dolphins crying), the season finale will include Strange Fruit, a taut, three-minute solo on Southern lynchings choreographed and performed (to a Billie Holiday soundtrack) by former company member Oscar Hawkins.
Bookended by two works under Nahat's direction, the program opens with Michel Fokine's classic Les Sylphides. With its countless restagings on top of Fokine's 70 original versions, Les Sylphides presents a choreographer with endless choices.
Nahat shoots for a grand flow through history that can connect and inspire the future. His first goal is to re-create a Romantic work that speaks of an era. "It's a whole different way of movement that came as the first abstract ballet," Nahat explains.
He decided that only Frederic Chopin's piano score, sans orchestration, would accompany this poet's dream of sylphs ("perfect specimens of women" according to Nahat, "pure, innocent, simple"). "Fokine first did them to the piano. So I'm going even farther back than any production you're going to see."
Though Nahat's choice of score seeks to accentuate the quiet—"a glade, drops of water ... with those little sylphs running about"—his production will not spare on the costuming. "The style requires the costume," Nahat declares, contrasting his vision to Balanchine's black-leotard affair. "Your back is like this [Nahat bends and arches], because [he hums and flutters his fingers behind his back] there's little wings back here. What is a girl standing like this for in a leotard and tights?"
Needless to say, the season ends with extravagant spectacle—"chandeliers and sconces," Dvorák and Brahms—in Slavonic & Hungarian Dances.
Ballet San Jose Silicon Valley performs April 20-22 at 8pm and April 23 at 1:30pm at the San Jose Center for the Performing Arts, 255 Almaden Blvd., San Jose. Tickets are $22-$74. (408.288.2800)
Send a letter to the editor about this story.