April 19-25, 2006
home | metro silicon valley index | the arts | dance | preview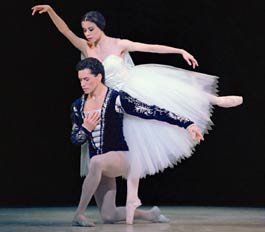 Photograph by Robert Shomler
Raymond Rodriguez and Karen Gabay starred in the 1994 production of 'Giselle.'
Ballet San Jose Silicon Valley
'Giselle' opens 2006-07 season
Dennis Nahat's popular version of Giselle, returns to Ballet San Jose Silicon Valley after more than a decade. The piece has been refurbished and given new costumes and sets. Symphony Silicon Valley will be in the pit to perform the score live.
The upcoming performing year, known as the "Season of Favorites" also includes artistic director Nahat's ballet Le Style Classic scored to Mozart's Symphony no. 39. Another Nahat work scheduled is Ontogeny, performed to music by Karl Husa.
The ballet will offer a debut performance of a comic ballet called Il Distratto, set to music by Haydn and choreographed by Lew Christensen.
Performances are at the San Jose Center for the Performing Arts, 255 Almaden Blvd., San Jose. For ticket information, call 408.288.2800.
Ballet San Jose Silicon Valley Season
November 16-19, 2006: Giselle
December 14-24, 2006: The Nutcracker
February 15-18, 2007: Le Style Classic (Nahat/Mozart), Ontogeny (Nahat/Husa), Il Distratto (Christensen/Haydn), Don Quixote Grand Pas de Deus (Nahat after Petipa/Minkus)
March 15-18, 2007: The program will be announced later.
April 26-29. 2007: Middle Kingdom—Ancient China (Nahat, Yao/Young) (Read Metro's review of last year's performance of Middle Kingdom)
Children's Performances, May 17-19, 2007: Ballets from Hans Christian Andersen tales; California Theatre, 345 S. First St., San Jose.
Send a letter to the editor about this story.