April 19-25, 2006
home | metro silicon valley index | music & nightlife | club preview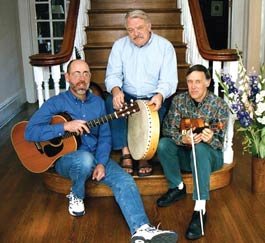 Golden State Ramblers.
Club Life
Naglee Park Garage
Address: 505 East San Carlos St, San Jose. 408.286.1100; www.nagleeparkgarage.com. All shows and movies are weather permitting; no cover.
By Todd Inoue
LAST WEEK during a brief sunny respite, the Naglee Park Garage debuted its first live music event with a performance by Briarwood. If the rain ever lets up, the Garage is gearing to hold acoustic shows on the second Thursday of each month. Also, its first outdoor cinema event debuts Saturday, April 29 at sunset with Casablanca.
(Music starts at 6pm on the patio)
Lisa Dewey 5/11
Chris Burkhardt 6/8
Los Soneros Del Este 7/13
Golden State Ramblers 8/10
Jorge Faustmann and Friends 9/14
Daniel Filip Trio 10/12
(Movies begin at sunset)
Casablanca 4/29
High Fidelity 5/27
School of Rock 6/24
Wallace and Gromit and the Curse of the Were-Rabbit 7/29
O Brother, Where Art Thou? 8/26
Napoleon Dynamite 9/30
Abbott & Costello Meet Frankenstein 10/28
Send a letter to the editor about this story.