April 19-25, 2006
home | metro silicon valley index | the arts | visual arts | preview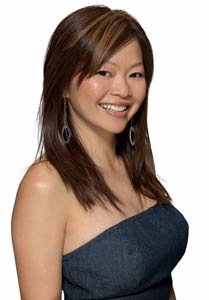 Photograph by Virginia Sherwood
Everybody Loves Chloe: Houston designer Chloe Dao took the high road to Santino Rice's low road on 'Project Runway.'
The Dao of Fashion
'Project Runway' winner Chloe Dao keeps it real on the catwalk as well as on reality TV
By Sharon Mizota
THE COLORS of designer Chloe Dao's latest runway collection—hot pink, electric blue and metallic gold—are slightly reminiscent of Paris by Night, the hugely popular Vietnamese-American DVD series filled with heartfelt yet cheesy musical numbers and flamboyant, jewel-toned costumes and sets. While Dao, who visits the San Jose Museum of Quilts and Textiles this week, is familiar with the program ("My mom makes me watch [it]"), she is adamant that the show had nothing to do with her designs. "If anything," she says, "there's an Indian [South Asian] influence rather than Chinese or Vietnamese. I love Indian colors."
No matter what the source, this audacious color in combination with spare, sinuous lines gives Dao's collection its innovative edge. Her clothing, like the designer herself, brings an earnest optimism and charm not often seen on the runway. Far from the arrogance and affectation of other fashionistas, Dao's demeanor is casual, friendly and upbeat. The sixth of eight sisters, Dao describes her Houston upbringing as all-American: "I played tennis and was president of the Latin club," she recalls. Over the past 13 years, she has honed her skills in multiple facets of the fashion industry, culminating in the opening of her own Houston boutique, Lot 8. "I've always been a go-getter. You don't have to ask me to do anything. I'll get it done before you ask."
Her latest achievement is her most high-profile yet: In March, she was named the winner of the Bravo reality series Project Runway, besting 15 other designers in what amounted to a marathon of cutting, sewing and trash talk. Dao tackled the show's many surprises and over-the-top personalities with a mature design sensibility and pluck. Now she's applying that same focus to what hopes to be a bright future. When asked how her life has changed since the Runway win, Dao says, "Everything is crazier—and more important." She knows that she is now performing on a much bigger stage, where her decisions will have greater impact. Yet, ever practical, she's taking her time to develop a strategy, and insists on doing it her way. "I'd like to quietly conquer the world," she asserts.
For the time being however, "quiet" is not on the agenda. Dao now spends much of her time on a busy schedule of press interviews and public appearances. On April 22, she will attend the VIP reception for "Ao Dai: A Modern Design Coming of Age" at the San Jose Museum of Quilts and Textiles. "I'm doing it for my mom," she says of the exhibit of traditional and contemporary Vietnamese dresses. "It will be cool for her." Fame has also brought opportunity. She is doing more couture work and developing a line of upscale eveningwear for Lot 8. "It's a new thing for me to be designing $2,000 evening dresses," she said, "because I don't shop at that price point. I buy $200 dresses." She has also been talking to some potential investors and is looking to expand her staff beyond the family circle of mom, aunt and sisters that has helped her build the business so far.
Dao seems to be taking the new attention in stride. The innate practicality and "go-getter" personality that served her well in competition are now helping to keep things in perspective. In a world so often ruled by lies and spin, it's refreshing to see hard work and perseverance pay off. For once, alongside its routine parade of freaks and egomaniacs, reality TV has made a star out of someone real.
Chloe Dao appears April 22, 7-9pm, at the VIP reception for 'Ao Dai: A Modern Design Coming of Age' at the San Jose Museum of Quilts of Textiles, 520 S. First St, San Jose. Tickets are $50. (408.971.0323 x14). She will also appear on April 23, 2-4pm, for the opening reception. (www.vietarts.org)
Send a letter to the editor about this story.