April 19-25, 2006
home | metro silicon valley index | silicon valley restaurants | review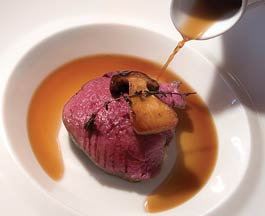 Photograph by Felipe Buitrago
Shroom With a View: Christopher Kostow has found a place in suburbia for eye-popping avant-garde cuisine.
Cooking Without Fear
It's just your average 'S.F. chef moves to 'burbs and tries to revolutionize avant-garde cooking' story.
By Stett Holbrook
WHEN the owners of Chez T.J. offered Christopher Kostow the position of executive chef, he had one reservation: Mountain View?
Kostow, 29, had been working as sous chef at San Francisco's Campton Place and served as right-hand man to Daniel Humm, the restaurant's celebrated executive chef who has since left to take a job in Manhattan. Not to take anything away from Chez T.J., a restaurant well known for its contemporary French cuisine, but after cooking in San Francisco and in two- and three-star kitchens across France, Mountain View probably felt like suburban Cleveland to an ambitious chef like Kostow.
Chez T.J. is located in a picturesque 1890 Victorian house just off Castro Street, one of the Bay Area's most diverse restaurant rows. From ramen to tandoori, you can get just about anything your stomach desires here. But except for 24-year-old Chez T.J., the city is not known for its fine dining.
Still, Kostow left any reservations he had behind and has dived into his new job. He lives in an apartment behind the restaurant and is battling the incessant rain as he tries to get the restaurant's backyard garden going.
"I couldn't be happier," he says.
At first he wasn't sure how the locals would take to his bold, inventive food.
"I'm pushing it and pushing even more avant garde, and I'm pleasantly surprised that people are down with it," he says.
Less than four months after accepting the job, Kostow's technically demanding style has made the restaurant one of Silicon Valley's bright lights. Kostow's food is complex and technique-driven, rather than ingredient-driven. His creations are intricately constructed with multilayered flavors and textures that combine to create singularly delicious, seldom-cluttered results.
There are two options when dining at Chez T.J.: the pricey and the pricier. The menu gastronomique ($80; $125 with wine pairings) allows you to put together a four-course meal by choosing from a selection of starters, first courses, entrees and desserts. The chef's tasting menu ($110; $155 with wine pairings) includes 12 courses, several of which are available on the menu gastronomique.
On my first visit, I ordered the menu gastronomique. The meal began with an amuse bouche, described as a little something the chef was working on: a single satiny pillow of ravioli plumped full of oyster and clam. The briny, mineral sweetness of the shellfish played perfectly off the slippery ravioli. I'd say this one is a keeper.
Because I was dining with two friends and we all ordered different things, I got to try just about everything on the menu. Plate for plate, it was one of the best meals I've had in months. Here's my highlight reel: From the round of starters, my favorite was the "composition of asparagus, egg and smoke." Asparagus is popping up on spring menus all over, but you aren't likely to encounter one like this. Served on a long rectangular plate, the dish pairs a smoked egg yolk, tender asparagus spears draped in a thick mouseline sauce and a tiny, oval ramekin filled with bright green asparagus panna cotta topped with smoked sturgeon and osetra caviar. The combination of the creamy, grassy panna cotta with the salty, smoky flavors of the caviar and sturgeon is genius.
I also loved the baby octopus, a tiny tangle of roasted tentacles accented with the nutty sweetness of fresh-sliced hearts of palm, preserved lemon and a few leaves of mache. The octopus was chewy, but pleasantly so.
You seldom see frog legs on menus anymore, and when you do it's invariably an old-line "continental" restaurant that goes for the de rigueur preparation of sauteing them in garlic butter. Kostow revives the delicate amphibian appendages by wrapping the meat in a translucent ravioli and accents it with green garlic, Meyer lemon and fava bean leaves. It's an understated, elegant dish that glided down my throat like a warm oyster.
The one bump I encountered was the bay scallops and sweet shrimp. Given the delicate sweetness of the scallops and shrimp, poaching the shellfish in vanilla-laced butter is a creative but logical choice. The addition of red-veined chard gave the dish a flash of color, and wood ear mushrooms anchored it with a low earthy note. But the sweetness went too far and verged on cloying, marring what could have been an excellent dish.
Kostow says he's out to break down the barrier between meat and fish dishes by combining the two on the same plate. A particularly delicious example is rock cod and butter-poached squid. Kostow stuffs the tender squid with merguez, a spicy North African sausage. The fish and squid are ringed by a moat of a deeply flavored bouillabaisse emulsion and drizzled with a bright green stripe of pureed baby green beans. It's a fantastic dish with layers upon layers of flavors and not an ingredient out of place.
And then there were the pork cheeks. While the accompanying spiced apple gelee was too aggressively flavored, the braised pork was unbelievably, supremely succulent and rich. Fork tender? You could cut this meat with an index finger.
While the recent 40 days and 40 nights of rain have put a damper on Kostow's garden, he did manage to create a fantastic dessert from the backyard tangerine tree. The "triptych of tangerine" combined tangerine sorbet with tarragon syrup, tangerine consommé with milk and honey and, best of all, a ridiculously delicious tangerine panna cota served inside a hollowed out tangerine skin. It would be hard to improve on this last dish, but I did; I dribbled in a few spoonfuls of the bittersweet and lovely warm chocolate soup, another great dessert option. My God.
Throughout the meal, Kostow, a wiry guy with close-cropped hair, came out of the kitchen to chat with diners and occasionaly serve some dishes himself. The gesture goes a long to way to say this is someone who is personally invested in the food he serves and pleasing his customers.
Overall, service is smooth, professional and friendly. As each course arrives, servers described the food set before us as if introducing an interesting guest. Silverware is replaced before each new course arrives. Delivering plate after plate can seem rote, but when asked, the servers can move off script and describe the intricacies of the food and the particulars of the ingredients.
I left the restaurant as if awaking from a sweet dream I didn't want to end, trying to recall details and flavors before they faded from my memory.
When I came back for a second visit, I went for the tasting menu. The 12-course meal is a stunner to be sure, but the succession of small plates didn't have the same impact of the well-chosen shorter menu. With so many dishes, some are naturally better than others, but taken as a whole, the arc of the meal is truly impressive.
Each dish can be eaten in a few precious bites, leaving you longing for just one more, a seductive approach that is underappreciated in most restaurants. I loved the braised oxtail and foie gras wrapped in grilled radicchio; it's like a meaty bon-bon. Great too was the green garlic soup with bits of ham hock and fava beans gilded with a creamy, almond-scented foam. The dish arrives with the ham hock and fava beans in the middle of a bowl, and then the waiter pours the shamrock-green soup from a small pitcher around the plate. It's another beautiful dish.
I think Kostow made the right move to the 'burbs. Given the crowded field in San Francisco, the small pond of Mountain View gives him a better opportunity to shine. And shine he does. Welcome, Christopher. I hope you stay awhile.
---
Chez T.J.
Address: 938 Villa St., Mountain View
Phone: 650.964.7466
Hours: Tues-Thurs 5:30pm-9pm and Fri-Sat 5:30pm-9:30pm
Cuisine: French
Price Range: $85-$155.
Send a letter to the editor about this story.