April 19-25, 2006
home | metro silicon valley index | movies | current reviews | film review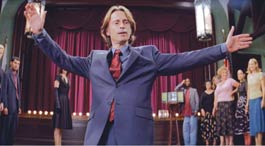 Charmer: Robert Carlyle learns to dance, thanks to Marilyn Hotchkiss.
Dance Macabre
Please don't let them begin the beguine at 'Marilyn Hotchkiss Ballroom Dance & Charm School'
By Richard von Busack
MY MOTHER used to break the ice at parties by claiming that she had been to charm school. She recalled that the very first lesson was learning to say, "Isn't that interesting?" instead of "Bullshit!" Obviously, Mom was long on charm, and she had a soft spot for sticky cinema. Still, I doubt she could have brought herself to say, "Isn't that interesting?" to Randall Miller's Marilyn Hotchkiss Ballroom Dancing & Charm School. The film is a thorough regurgitation of Moonstruck and The Accidental Tourist and the collected works of John Irving, complete with dead wives, wooden limbs, bloody car crashes and life-affirming rumbas.
Robert Carlyle plays Frank Keane, the most depressed baker since the hero of Raymond Carver's short story "A Small, Good Thing." He is an artisan who sadly kneads his dough in a shadowy kitchen while living humbly in a $700,000 craftsman house. On his delivery route, Frank discovers a moribund driver, Steve Mills (John Goodman), half-killed in a car accident. With his dying gasps, Steve makes Frank promise to meet a girl named Lisa at the Marilyn Hotchkiss etc., where long ago he had pledged to go "on the fifth day of the fifth month of the new millennium." Honoring the dying man's request, Frank visits the starchy classroom, now taught by Hotchkiss' daughter, Marienne (Mary Steenburgen, a glad sight under even these terrible circumstances). Enrolled in the class but unable to find Lisa, the baker is distracted by a provocatively sad lady named Meredith (Marisa Tomei).
Actors unaccustomed to dance try to merengue, Lindy Hop and cha-cha. And through the magic of cinema, Frank somehow experiences Steve's own flashbacks of the early 1960s. In Jean Shepherdish episodes, we see how Steve first took the classes that changed him from a rowdy little boy into a man and how he fell in love with a girl with "long blonde hair and freckles and a button nose." Despite all evidence, the film didn't have to be this appalling. A Dennis Potter might have contrasted the adolescent memoirs with the disillusionment of later life. Miller is like the gambler who bets on every horse at the race, in the hope of picking one winner; no character can escape redemption or life affirmation; no character can avoid delivering the school-yard humor that's supposed to make us indulge this movie its remorseless bathos. In lighter shades or dark, Miller's writing is bullish on exposition: "The guy's wife is dead. And it hurts! Bad! Like a knife in the gut!"
That's exactly how Marilyn hurts. The title is fair warning, which may explain the lack of advance notice for a movie with so many squandered actors, including David Paymer, Sonia Braga, Ernie Hudson and Miller's cousin-in-law Danny DeVito. Even scarier: Marilyn is an expansion of a 15-year-old calling-card film from the USC Film School, a project that waited while Miller toiled at the TV shows Till Dad Do Us Part and Jack & Jill. All Miller can hope for is an audience so intellectually eroded by his sitcoms that they will weep the buckets that he tries to press out of them.

Marilyn Hotchkiss Ballroom Dancing & Charm School (PG-13; 103 min.), directed by Randall Miller, written by Miller and Jody Savin, photographed by Jonathan Sela and starring Robert Carlyle and Marisa Tomei, opens Friday at selected theaters.
Send a letter to the editor about this story.