April 19-25, 2006
home | metro silicon valley index | movies | current reviews | film festival preview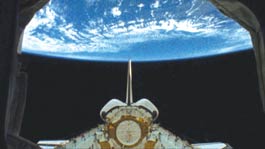 Out There: Werner Herzog's 'Wild Blue Yonder' rates a screening at the San Francisco International Film Festival.
Fest Bets
A look at the best—new and old—onscreen at this year's S.F. International Film Festival
By Richard von Busack
THE MOST tantalizing decision facing a guest at the San Francisco International Film Festival is a short one: new films or old? Revivals this year include the scarcely seen 1940 Hal Roach comedy Turnabout, in which a couple (Carol "mother of John" Landis and John Hubbard) get their sexes switched by a cursed Indian idol. Valentino's masked-avenger drama The Eagle is revived with an Alloy Orchestra soundtrack. And the Alloys will also accompany some Fatty Arbuckle shorts for a family matinee. Manitoba's Guy Maddin, whose love of cinema is rooted in the most fabulous excesses of expressionism, will be introducing a scad of his films at both the San Francisco and East Bay wings of the festival.
The very family-unfriendly Belle de Jour by Luis Buñuel will also be revived, with Belle's screenwriter, Jean-Claude Carriere, flown in to explain this key comedy about that wriggling, shy-of-the-light creature we call "sexuality." Consistently uncompromising actor Ed Harris will be in town to cop the Peter J. Owens award and to introduce one of his best films, Victor Nuñez's 1984 version of John D. MacDonald's anti-Florida development novel A Flash of Green (also known as Hoot for adults). San Francisco's own god of folk-music anthropologists was Harry Smith. His 1962 abstract film Heaven and Earth Magic is being screened with a live soundtrack by Deerhoof on April 27 at the Castro Theatre.
Is Machinima retro or nowtro? "Cock Byte: Masters of Machinima" are films by the Rooster's Teeth collective out of South Texas. Machinima is animation composed on the blocky, limited software used in video games. The ease of wringing out deadpan humor from the motionless faces must be part of the appeal. As author Scott McCloud suggests, the simpler a cartooning technique, the more it appeals to that inner child—the one who can see a face in two dots and a crescent. This year's festival tintintabulates with bells and deafens with whistles, unveiling not just machinima but optronica; the latter at a May Day show by the group Addictive TV, Parisian mashers-up of thrift-shop 8 mm film and digital graphics. "Pocket Cinema" (April 27) is a night of media made specifically for mobile devices. And the fest will include the usual podcasts for the area's many pod-people.
Choosing a distressing metaphor in these terrorism-wracked times, San Francisco Film Society executive director Graham Leggat likens this year's festival to "an exploded theater." The opening outdoor happenstance, titled "Big Tilda," by Lucy Gray, features 12 large and scary collage images of snow queen Tilda Swinton projected on the side of San Francisco City Hall. Amid these technical breakthroughs are many examples of just plain cinema. The documentary Jonestown: The Life and Death of the People's Temple discusses the murderous Jim Jones' aims, as well as his local political connections. Werner Herzog brings in his new speculative-fiction work The Wild Blue Yonder. New works by Robert Altman, Hou Hsiao-hsien, Raoul Ruiz and Terry Zwigoff are also on tap. Some debris from the festivals so-called exploded theater showers down into the Aquarius cinema in Palo Alto—more on that next week.

The San Francisco International Film Festival runs April 20 to May 4 in San Francisco, Berkeley and Palo Alto. See www.sfiff.org for details.
Send a letter to the editor about this story.