04.22.09
home | metro silicon valley index | columns | silicon alleys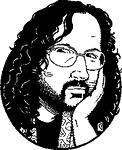 Silicon Alleys
Santa Clara Snapping
By Gary Singh
SINCE THERE aren't too many Filipino husband-and-wife photography duos based in San Jose who have won multiple awards in different hemispheres, I just had to infiltrate an operation called This is iT Photography on El Camino Real. Located in a newish-looking but nondescript retail complex just west of Lafayette Park, the studio of Marc and Phoebe Aviles technically lies within Santa Clara city limits, but the couple themselves actually live in San Jose proper. I can already imagine the two cities fighting over who gets to claim these folks. They are a humble yet powerful emerging force.
Originally, both were working as programmers in the IT industry in Singapore while shooting pictures on the side. But then Marc started winning awards for his photos, so he decided to eventually shift gears and devote more time to photography. The two moved to San Jose just over a year ago when Phoebe landed a job at AlphaSoft Services Corporation in Walnut Creek, where she still works. Marc runs the portrait studio full-time, and Phoebe shows up in the evenings and on weekends to do graphics and touch-up work.
As of right now, they specialize in wedding and portrait photography. Marc has a passion for landscapes, seascapes, rock formations, clouds and architecture—"Anything beautiful and unique," he says—while Phoebe prefers more edgy angles and juxtapositions.
In particular, they say ethnic weddings provide a perfect mixture of every scenario that photography is supposed to be all about: glamour; decked-out subjects in their preferred element; exotic locales; and the challenge that comes with a once-in-a-lifetime opportunity. As a result of their talents at capturing matrimonial merriment, Marc and Phoebe were featured as Wedding & Portrait Photographers International (WPPI) photographers of the month in its April 2008 newsletter. "Weddings are a challenge; you can't repeat the moments happening before your eyes," says Marc in the newsletter. "You cannot ask the couple or guests to hold on for a while—you must always be ready, attentive, observing and anticipating. Taking necessary prep steps is something we always labor over."
And last June, Marc received special honors at the 2008 WPPI 8-by-10-inch First-Half Print Competition. Two prints, one from Yosemite and the other from the Valley of Fire, near Las Vegas, out-and-out dazzled the judges. What's more, Marc's story is unique in the sense that, except for a high school class 20 years ago, he is entirely self-taught. Photography was always just a hobby until recently. "When he first started, he won awards right away," Phoebe tells me. "Then that's what motivated him."
Back in 2004 when Marc lived in Singapore, he won the PHOTOi/Nikon Best Photographer of the Year, a award for photographers local to that city. For the prize, he took home a snazzy Nikon D70. Not a bad deal, especially when he didn't even shoot with a Nikon in the first place. Perhaps the biggest award came in when Marc won the 2007 Popular Photography & Imaging Photographer of the Year Award—a gig that landed him a $5,000 prize and the auspicious title of "The Best Shooter on the Planet." For that one, hundreds of shooters from all over the world were narrowed down to 35 finalists, and Aviles prevailed.
Phoebe herself has likewise won a few accolades. She took home the 2006 best Storytelling Award from the National Geographic Channel and was also a 2007 finalist for Digital Camera Magazine's/ Portrait Photographer of the Year.
Now the husband-and-wife team sets up shop right here in little ol' Santa Clara, and Marc's high school alma mater back in Manila is even so proud of the guy that it held a contest named after him: The Marc Aviles Emerging Talent Photography Competition. It was a project of the San Juan National High School Alumni Association Inc., whose ambitious acronym is: SJNHSAAI. Whew.
Even though I am illiterate with a camera and even more conceptually removed from both weddings and portraits, I am inspired by these two individuals. You should be, too. Marc and Phoebe's work can be viewed on their website: www.thisisitphotography.com.
Contact Gary Singh or send a letter to the editor about this story.