04.22.09
home | metro silicon valley index | the arts | visual arts | review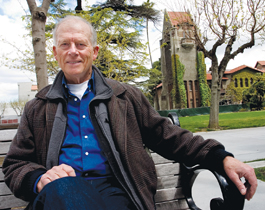 Photograph by Felipe Buitrago
NATIVE SON: In 2006, Jim Houston became the first SJSU alumnus to be named Lurie Distinguished Chair in Creative Writing at the school.
True Westerner
Literary hero James D. Houston was a mentor to two generations of regional writers
By Geoffrey Dunn
IN Californians, his widely celebrated 1982 work of nonfiction about the Golden State, writer James D. ("Jim") Houston revisited the San Jose of his youth, where he spent his formative years, graduating from Lincoln High School in the early 1950s and attending San Jose State College, where he pursued a degree in dramatic arts. Driving around "a town I thought I knew quite well," Houston wrote that he "got lost in a district that had once been orchard land" during his childhood.
"I was driving from memory," Houston continued, "on the automatic pilot you ought to be able to use at least once in a while, after spending most of your life in the same part of the world. I learned once again that automatic pilot is a high risk in California, where everything changes as it moves."
The death of Jim Houston this past week at the age of 75 reminds us once again that life still changes as it moves, that a vast and sudden shift has taken place on our community's literary landscape. Houston was a mentor and cultural signpost for two generations of regional writers, a quiet, dignified presence, always with a helping hand for young authors clenched in struggle with the muse.
As I grapple with the news of his death, I find myself pulling down his various books from my shelves—his early novel Gig; a tiny chapbook Three Songs for My Father; a first edition of Farewell to Manzanar; his masterful Snow Mountain Passage—and suddenly there is a pile, a formidable heap of novels and nonfiction histories and travelogues and biographies and remembrances.
Houston dedicated Californians to his children: "Corinne, Joshua, Gabrielle, and to all the travelers who brought them to this crossroads—from Hawaii, Honshu and Niigata, from Cumberland Mountain, County Antrim and Glasgow." Indeed, blood and place and fatherhood are what mattered to Jim Houston. It was upon those cornerstones that he built not only his life but also his professional career. Indeed, as I now survey his biography and literary oeuvre, they are nearly impossible to separate.
Obituaries from across the country—from Honolulu to New York—have covered the requisite details: Born in San Francisco on Nov. 10, 1933, he grew up on the western edge of the city, in the Sunset District, nestled up against his beloved Pacific Ocean. It provided a childhood purview facing West that would shape and define his sensibilities for the remainder of his life.
In the aftermath of World War II, the Houston clan moved 45 miles south to the then-rural Santa Clara Valley, near Pierce Road in Saratoga, where Jim came of age and first discovered the joys of traveling over the mountains to Santa Cruz.
It was at San Jose State that Jim met his future bride—Jeanne Wakatsuki—the wildly popular daughter of a Japanese-American fisherman cum Santa Clara Valley strawberry farmer, and she was to serve as Jim's life-partner for nearly six decades. As Jim would mention at various times in his writing, his father's military stint in Hawaii, where he had learned to play the Hawaiian slack key guitar, had a near mystical impact on his son's imagination. As soon as he was able, Jim made what was to be the first of several sojourns to the islands; he and Jeanne were married on the beach at Waikiki in 1957.
After serving in the U.S. Air Force in England, Houston and his wife toured Europe before returning to Northern California, where Jim received an MA in American literature at Stanford University. In 1959, his first published story appeared in a London literary journal. The writing bug had taken hold.
Houston taught creative writing at Stanford and later at UC–Santa Cruz and several other institutions and workshops (most notably at Squaw Valley) around the world. In 2006, he was named the Lurie Distinguished Chair in Creative Writing at San Jose State University, teaching writing and postwar California literature. Houston was the first alumnus of the school to be so honored. His students were many and remain fiercely loyal. Jim cared as much about them as he did about writing.
It was in 1973 that Jim and Jeanne collaborated on what was to be a landmark work, Farewell to Manzanar, which chronicled Jeanne's childhood experiences in a Japanese-American internment camp during World War II. It was a book that would change forever the American consciousness toward this ugly and previously buried piece of the nation's history. Three decades later, in its 63rd printing, it remains one of the most important works in the American canon.
From that point on, the books seemed to cascade out of Jim's writing room, fiction and nonfiction, anthologies and collections. The awards and recognition also followed—two American Book Awards, a Joseph Henry Jackson Award for Fiction and the Humanitas Prize, among them. By the time he celebrated his 75th birthday last fall, Houston had completed nine novels, most recently Snow Mountain Passage and Bird of Another Heaven, and more than a dozen works of nonfiction, including In the Ring of Fire and Where Light Takes Its Color From the Sea.
On the Rim
Jim Houston's great gift to American arts and letters was his unique perspective on the Pacific Rim and the confluence of Eastern and Western history in the region. As his wife, Jeanne, noted in a casual discussion this past week, in many ways her husband served as a bridge between these two traditions, as a translator, of sorts, and he gave voice to those who had been dispossessed in the region—early-day Californios, Japanese-American internees and forgotten figures in Hawaiian history. Houston caught the wave of Pacific Rim consciousness right as it formed and rode it all the way into shore.
Houston was a master craftsman, someone who paid close attention to the details, who took his work to heart. He was a writer's writer, the most dedicated and determined and disciplined I have ever encountered.
Houston's friend, Alan Cheuse, wrote in the introduction to Where Light Takes Its Color From the Sea that "Jim's literary father is John Steinbeck, his favorite uncles are Wallace Stegner and Oakley Hall, his sibling is Joan Didion," and so on. Cheuse got the lineage right. Now, in the aftermath of Houston's death, I realize that those of us in Central California are all his literary children, living on the edge of the Pacific Rim, the region that captured Jim's imagination for an entire lifetime.
Memorial services for James D. ('Jim') Houston will be held in Santa Cruz at Chaminade on Saturday (April 25) at 12:30pm. Contributions in Jim's honor can be sent to: Community of Writers at Squaw Valley, P.O. Box 1416, Nevada City, CA 95959 (www.squawvalleywriters.org).
Send a letter to the editor about this story.