04.22.09
home | metro silicon valley index | the arts | books & literature | review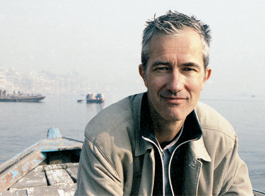 WELL-TRAVELED: Geoff Dyer's new novel ranges from Italy to India.
A Tale Of Two Cities
Geoff Dyer's multistranded new novel tracks a jaded journalist from Venice to Varanasi
By Gary Singh
WITH HIS new novel, Jeff in Venice, Death in Varanasi, author Geoff Dyer provides glimpses of two separate worlds that are, well, not entirely separate. In the first half of the book, we are introduced to protagonist Jeff Atman, a disenfranchised, self-professed hack journalist from London weaving and bobbing his way through midlife loneliness while on a freelance assignment to cover the Venice Biennale, the world's most extravagant art party.
Wealthy aficionados and celebrities from across the globe descend upon Venice for uninhibited excess, and although Jeff is technically there to file a story, he spends his time at yacht parties and dives head first into cocaine, booze and explicitly described hotel-room romps with an American named Laura: "That was the thing about the Biennale: it was a definitive experience, absolutely fixed, subject only to insignificant individual variation. You came to Venice, you saw a ton of art, you went to parties, you drank up a storm. You talked bollocks for hours on end and went back to London with a cumulative hangover, liver damage, a notebook almost devoid of notes and the first tingle of a cold sore."
Throughout the first section, Dyer offers not only a multisensory depiction of Venice and its people but also a dead-on accurate portrayal of what goes through a jaded writer's mind while getting hammered on yet one more travel junket: "The biggest joke of all—the thing that made him more depressed than anything—was that at a certain level he was considered successful. People envied his getting assignments like this. One of the people who envied his getting assignments like this was Jeff. He bitched and griped, but he would have bitched and griped even more if he'd heard that some other hack had got this junket instead." As a travel writer myself, I can vouch for the honesty of Dyer's observations.
The self-deprecation continues, and we believe Atman when he says he's just there to freeload and schmooze rather than write the story, which he hates doing anyway.
The second half of the book takes place in Varanasi, one of India's holiest and also filthiest places. The story now switches to the first person, and we are never told if the narrator is the same individual as in the first half of the book. We are informed, however, that he is a writer on assignment, having been flown to Varanasi to crank out a piddly 1,200-word travel piece.
But this is not the same self-loathing emotionally distant soul we saw in Venice. Here, unintentionally or not, the writer descends into that hypervoid between madness and enlightenment among insane traffic, wandering cows, diseased mutts, ritual cremations on the shores of the Ganges and omnipresent piles of unidentifiable feces. "Varanasi's reputation for sending people nuts rivaled its reputation for making them ill," he proclaims.
Like any natural, Dyer, perhaps automatically, weaves a tale with multiple dimensions and tentacles emerging in-between the lines. There is no overall linear plot in the conventional sense, and both halves of this diptych—Venice and Varanasi—are stitched together ever so abstractly. The first part appropriates themes from Thomas Mann's Death in Venice while the second half finds the narrator contemplating Allen Ginsberg's previous comparison of the two cities.
In Venice, we witness ass-licking (literally) hotel-room encounters, and in Varanasi we have meticulous descriptions of the narrator's diarrhea. At the Biennale, Jeff botches the interview he's supposed to do and proceeds to revel in desire, while in India he files the story and then stays on to find himself spiritually—basking in the absurdity of the place and losing all desire.
Even better, the style of the two sections reflects this dichotomy. The Venice half is a straight-up fictionalized travelogue depicting the excesses of the high-brow art world, but the Varanasi portion is more abstract, spontaneous, experiential, free-flowing, dung-filled and thoroughly beyond linear representation—pretty much like any Western visitor trying to sort out India for the first time. And of course, the very name "Atman" is a Sanskrit word for "soul" or "the inner you," so pull out Siddhartha and get a refresher lesson. You just might see some of yourself in these protagonists.
JEFF IN VENICE, DEATH IN VARANASI by Geoff Dyer; Pantheon; 296 pages; $24 hardback. The author appears on Friday (April 24) at 7:30pm at Kepler's Bookstore, 1010 El Camino Real, Menlo Park. Free. (650.324.4321)
Send a letter to the editor about this story.