04.22.09
home | metro silicon valley index | the arts | books & literature | review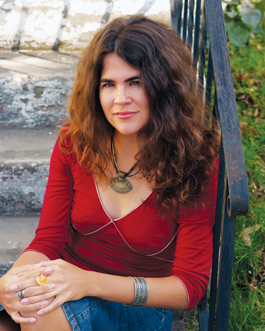 FOOTLOOSE: Stephanie Griest went looking for her roots in 'Mexican Enough.'
On the Road
MACLA hosts a talk by travel writer Stephanie Elizondo Griest
By Colleen Watson
IN HER new travel book/memoir, Mexican Enough: My Life Between the Borderlines, Stephanie Elizondo Griest brings to life a Mexico that most people don't know. Griest begins her journey as an outsider who seems to feel almost apologetic that she's not Mexican—she grew up in south Texas in a blended family. Her mother's parents were from Mexico. Her grandmother never learned English, and growing up Griest didn't know enough Spanish to communicate with her. A narrative that begins in a light-hearted vein starts to grow quite emotional. In addition to the sensory immediacy of her encounters with people throughout Mexico, the book's footnotes offer historical, statistical and factual information that make interesting reads on their own and add valuable context to the overall story. Mexican Enough is a follow-up to Griest's book about traveling through Russia, China and Cuba, Around the Bloc: My Life in Moscow, Beijing and Havana. Explaining what she learned on her trek her way through these revolutionary societies, Griest tells me, "Over the course of learning those languages and interacting with those amazing people, it really occurred to me that one of the great travesties of communism was how carefully its leaders tried to strip the people of their indigenous culture and their indigenous religion."
After living with people who had given up so much and fought so hard to retain their culture, she started looking at her own identity. "I felt like a total sham, a total fake," she says. "Being biethnic, biracial, I always had these complexes [wondering] if I was Mexican enough." One of the sadder themes that run through Mexican Enough is ni modo, a term that means "whatever." Ni modo is basically a verbal shrug of the shoulders about things that can't be changed. "To me," Griest says, "ni modo represents a very sad resignation of a very brave and resilient people that life is out of control." But after spending time with these people, Griest realized that ni modo, more than just an expression of sadness, is a coping mechanism for people to deal with things that they feel they can't change. Without ni modo, Griest says, "people would go crazy. I totally understand why there is this philosophy."
Griest didn't experience much fear for her own safety while in Mexico, but she did worry about the Mexicans, especially the indigenous people, like the Tzotziles, who are descended from the Mayans. "They really do have fear, and their state can be totally repressive," she explains. "Yet people are still willing and brave enough to stand up for themselves." She adds, "People had this impression that I'm this really brave woman, but in fact that is not the case. I'm totally terrified to drive a car, and I'm scared to be alone at night."
What really pushes the story along are the different people Griest encounters. An aging luchadore (masked wrestler), a dominatrix and a social worker are just some of her unusual travel companions. Their stories are short little vignettes that add to the overall story of a vibrant Mexican culture that most people probably don't realize exists. "I came to admire their resilience and courage," Griest says. "I came away with an intense admiration for the people I met there." Throughout the book you can hear Griest asking herself, "Am I Mexican enough?" Her answer reflects the wisdom she gained on the road: "Ultimately, we are all enough, whatever we are."
MEXICAN ENOUGH: MY LIFE BETWEEN THE BORDERLINES; Washington Square Press; $14 paperback. STEPHANIE ELIZONDO GRIEST reads on Thursday (April 23), 8pm, at MACLA, 510 S. First St., San Jose. Tickets $5–$7. (408.998.ARTE)
Send a letter to the editor about this story.