04.22.09
home | metro silicon valley index | silicon valley restaurants | review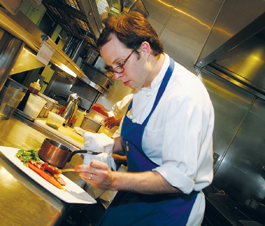 Photograph by Felipe Buitrago
DETAILING: Chef Guillaume Bienaimé prepares the lamb saddle.
Marché Orders
New chef Guillaume Bienaimé makes a red-hot debut at Palo Alto restaurant
By Stett Holbrook
SOMETIMES, procrastination pays off. I'd been meaning to eat at Marché to sample chef Howard Bulka's inspired French cooking for a few years now, but for one reason or another I never made it. Unfortunately, I waited too long. Bulka left the Menlo Park restaurant a year ago to open an artisan pizzeria in Palo Alto.
But in a case of better late than never, I finally made it to Marché. I'm glad I waited so long. While I missed out on Bulka's cooking, I got to bask in the glory of new executive chef Guillaume Bienaimé's red-hot debut earlier this month. Better late than never indeed.
I can't compare the old Marché with the new one under Bienaimé, but I can say the food there now is some of the most inspired, impeccably sourced and thoroughly delicious I've had in Silicon Valley in a long time.
Bienaimé, 27, was born in France but grew up in Palo Alto and Philadelphia. When he was a mathematics student at Foothill College, he got a job cooking at a now defunct Los Gatos restaurant and decided then and there to pursue a career in food. "Within a week I dropped out of school and enrolled in Johnson and Wales [a culinary school in Rhode Island]," he said. "I realized that's what I wanted to do."
While in culinary school, Bienaimé apprenticed at Marché, and after graduating, he accepted a job as banquet sous-chef in 2005. He quickly rose through the ranks and has been there ever since.
In between Bulka's departure and Bienaimé's promotion, Kolin Vozzoler headed the kitchen. Vozzoler was formerly executive sous-chef at Restaurant Gary Danko in San Francisco. Bienaimé says that his style falls in between Bulka's old-school, classic French cooking and Vozzoler's more avant-garde, Japanese-accented French style and fondness for exotic, imported ingredients. While not inexpensive, his menu is a few notches cheaper than his predecessors'.
Bienaimé's cooking is based in French technique, and he flirts with modern methods and elements of trendy molecular gastronomy like flavor-infused foams and dehydrated and crushed sauerkraut, but at its core his approach is rooted in superb, often locally sourced ingredients simply and expertly prepared. The results are almost always delicious.
Meals start with a complimentary nibble from the kitchen. On one occasion, the amuse bouche was a refreshing shot glass filled with cream of asparagus soup topped with an airy lemon cream foam. On another visit, it was a slice of beet, meaty Comte cheese and a peppery burst of arugula blossoms laid on top.
The lineup of starters builds on the amuse bouches. Sweetbreads are a classic, if sometimes fusty, fine-dining classic. Bienaimé pairs the lightly breaded, quickly sautéed orbs of beef thymus glands with delicate braised snails (another old-school standby) and savory bits of anchovy, pancetta and walnuts and then lightens it all up with a few fresh English peas ($18). Add it up and it's a stunner.
The grilled asparagus starter ($12) is a simple ode to spring: beautifully charred spears of snappy fresh asparagus matched with a barely breaded fritter of fresh ricotta cheese, pickled Fresno peppers and a tangle of spring greens.
Bienaimé's attention to the interplay of flavor is pitch perfect. A case in point is the Hokkaido scallop sashimi ($11), pearly, sweet slices of raw shellfish anointed with vanilla and tarragon, sweet flavors that on their own would have been one-dimensional but that came to life with the addition the salty, fatty pop of salmon roe. It's an appetizer in the literal sense of the word: it stoked my appetite and made me hungry for more.
Petrale sole is a simple, mild-mannered fish, but Bienaimé's golden, perfectly pan-fried fish ($24) is paired with ramps (a wild leek), yellowfoot chanterelles and black trumpets in an earthy, savory hazelnut brown butter that was tailor-made for the mushrooms and the fish.
I can't remember a duck dish as good as the one I had at Marché. The "Pekin" duck breast ($26) is intensely meaty and tender and matched with fat lobes of gamboni mushrooms and barely sweet notes of puréed parsnips and golden raisins. A dab of deep-green puréed stinging nettles added a burst of color and unique vegetal flavor.
The diver scallops ($26) are another example of Bienaimé's flavor-balancing act. The meaty, sweet scallops share the plate with aromatic stewed artichokes, nutty-sweet fava beans and the contrasting salty note from tiny but assertive bites of dried sausage to create an elegant, harmonious whole.
My favorite entree was the dukka-crusted Colorado lamb ($36). Dukka is an Egyptian nut-spice blend that Bienaimé learned from Bulka that combines pistachios and almonds with the lamb-loving aromatics of cumin, coriander and other spices. The bold seasoning is great with the big flavor of the wonderfully tender lamb. Paired with a beautifully braised, deep-orange carrot split lengthwise, the dish looked as good as it tasted. The only off-note on the plate came from the recklessly oversalted pea leaves.
Entrees are served a la carte so you can opt for a few side dishes. By all means go for the Yukon gold gnocchi ($6). The silken dumplings are boiled and then pan-fried so that they develop a light crust and are then tossed in sage-steeped browned butter. And you can't go wrong with the gamboni mushrooms sautéed with garlic and oregano and finished with a squirt of lemon ($6).
Service is first-rate. Servers know the menu well and seem to genuinely enjoy talking about the food. Marché's easy-going but knowledgeable wine director, John Sanders, is a pleasure and makes deciphering the deep, European-heavy wine list a real joy. I especially like his changing selections of eclectic wines by the glass.
Meals end on a strong note thanks to pastry chef Adrienne Garcia, another culinary talent who came to Marché from Manresa. Her Nantes-carrot cake ($9) is true to the classic version of the dessert, albeit less sweet and without the cloying layer of frosting. Instead, she opts for a small scoop of orange-clove ice cream and toasted walnuts.
Her chocolate brioche dessert ($9) is a postmodern trip into chocolate bliss. The deconstructed dessert combines spongy chocolate-topped brioche, a dollop of ice cream made from uncommonly thick rich Devon clotted cream and fried hazelnuts. It looks pretty, if a little spare, but mix all the flavors up and let them commingle in your mouth and it's flat-out great. With flavors like salted caramel, toasted cinnamon and Seville orange, Garcia's fast-melting, house-made ice creams ($9 for three) are not to be missed as well.
Marché has long had a reputation as an intimate neighborhood gem, but under this talented new chef it deserves a much wider audience. Bienaimé is a big talent who seems poised to take the restaurant to the next level and beyond.
---
Marché
Address: 898 Santa Cruz Ave., Menlo Park.
Phone: 650.324.9092.
Hours: 5:30–10pm Tue–Sat.
Cuisine: Modern French.
Price Range: Entrees $24–$38.
Web: www.restaurantmarche.com.
Send a letter to the editor about this story.