04.22.09
home | metro silicon valley index | movies | current reviews | dvd review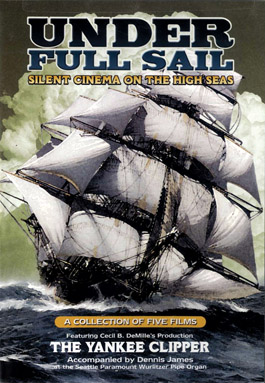 Under Full Sail: Silent Cinema on the High Seas
One disc; Flicker Alley; $29.95
By Michael S. Gant
The further we get from the days of silent films, the more valuable they become—not just as glimpses of a different, self-contained aesthetic, but as a record of sights we'll never see again. The Yankee Clipper, from 1927, is a good case in point. The melodramatic plot of this high-seas adventure, produced by Cecil D. DeMille, sometimes creaks as badly at the yardarms on one of the tall ships it salutes, but the ocean-going footage, taken aboard a square rigger called the Indiana (a survivor from the 1850s), is often thrilling, with the cameras mounted high in the masts for some sweaty-palmed stunt work as the sailors move across swaying lines to unfurl the sails. The setting is the mid-19th century; an English clipper ship, Lord of the Isles, races against un upstart American ship, the Yankee Clipper, for the rights to the tea trade out of Foo Chow, China. The opening scenes, with Queen Victoria herself, followed by President Zachary Taylor, are stiff and expository. The shore sequences in China, where the Yankee Clipper's puffy-shirted captain, William Boyd, falls chastely in love with Lady Jocelyn Huntington (Elinor Fair), benefit from some exotic frippery. But the film really comes alive when the two ships are racing with the wind. Some vertiginous shots looking straight down from the crow's nest to the tiny figures on the deck below give a good idea of how majestic these ships were. Comic relief is provided by child actor Junior Coghlan, who plays a pert and pugnacious stowaway. Coghlan was a nautical trooper, and the scene in which he crawls to the end of a high crossbar to evade a knife-clutching villain is genuinely thrilling in a way that CGI can't replicate. (The DVD includes an amusing interview with the elderly Coghlan recalling the scene.) Even the miniatures used in the storm sequences look surprisingly convincing. This excellent package from Flicker Alley, keeper of the silent flame, includes some rare shorts. Around the Horn in a Square Rigger (1933) tracks a speedy bark in the annual grain race from Australia to England; The Square Rigger, is a 1932 Movietone sound documentary about a Polish tall ship on maneuvers; Ship Ahoy (1928) provides a glimpse of a windjammer carrying lumber along the North Carolina coast—even at this time, the ship is treated by the filmmakers as a nostalgic throwback to a more romantic era. Most astonishing is a short segment from the 1922 film Down to the Sea in Ships. Setting off in small rowboats, some whalers go in pursuit of a passing pod of sperm whales. The unfortunate conclusion (nowadays, we root for the cetaceans) does not look entirely ordained. At times, the men are buffeted so fiercely that their mission looks impossible. The set comes with a handsome booklet.
Click Here to Talk About Movies at Metro's New Blog
Send a letter to the editor about this story.