04.22.09
home | metro silicon valley index | movies | current reviews | dvd review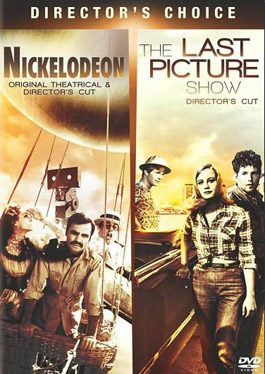 The Last Picture Show/Nickelodeon: Director's Choice
Two discs; Sony Pictures; $24.96
By Michael S. Gant
Peter Bogdanovich, with his owlish glasses and slow, steady speech, has made himself an indelible presence—as the psychiatrist's psychiatrist in The Sopranos and as an indefatigable interviewer mining the rich lore of Hollywood history. His career as a director—early acclaim followed by a swift fall from critical grace—can seem like an afterthought at this point. This director's cut (about eight minutes longer than the original release) of The Last Picture Show serves as a reminder of how good Bogdanovich was when he broke through with this quietly elegiac coming-of-age tale. The movie, made in 1971, is based on a Larry McMurtry novel and takes place in the early 1950s in a dying, wind-blown Texas town, appropriately photographed in black and white by Robert Surtees. We follow the mostly aimless, often horny activities of a couple of high school buddies through one year. Sonny (Timothy Bottoms) and Duane (Jeff Bridges) both lust after flighty Jacy (Cybill Shepherd). Their missteps and furtive couplings are wryly observed by the adults in town: Jacy's tart mom (Ellen Burstyn in fine form), the dowdy coach's wife (Cloris Leachman in an Oscar-winning supporting role) who has an affair with Sonny; whisky-voiced waitress Eileen Brennan; and, most importantly, Sam the Lion (Ben Johnson, who also nabbed an Oscar), the aging cowboy who is the town's moral center. Full of beautifully observed moments of both comedy and small-bore tragedy, the film holds its own nearly 40 years later. The same can not be said of 1976's Nickelodeon. A painfully arch Ryan O'Neal plays Leo Harrigan ("like the song" he tells people in a tedious running joke), a fledging screenwriter who takes up directing in the raw, anything-goes Hollywood of 1910. His path crisscrosses with that of one Buck Greenway (Burt Reynolds in a bad checkered suit), a stunt rider who goes to work for the patent agencies trying to shutdown wildcat movie productions. Brian Keith emotes broadly as impresario H.H. Cobb, and Tatum O'Neal is carted out to capitalize on her fame in Paper Moon. The film is so frantic that it becomes completely exhausting after the first half-hour. Bogdanovich obviously loves film history not wisely but too well. The same idea was done in much sprightlier fashion in 1939's Hollywood Cavalcade, which had the benefit of cameos by some real stars of the silent era, including Buster Keaton, Ben Turpin and Chester Conklin. For that matter, Bogdanovich did a much better job evoking old-Hollywood glamour in The Cat's Meow (1991), an underrated comedy about William Randolph Hearst, Marion Davies, Charlie Chaplin and Thomas Ince and one fateful night on the newspaper publisher's yacht. This DVD presents both versions of Nickelodeon: the original color release and the black-and-white version that Bogdanovich wanted. The old-style cinematography doesn't help a bit; the film is unfunny in any form. Also included is an interview with Bogdanovich about The Last Picture Show.
Click Here to Talk About Movies at Metro's New Blog
Send a letter to the editor about this story.