04.22.09
home | metro silicon valley index | movies | current reviews | film review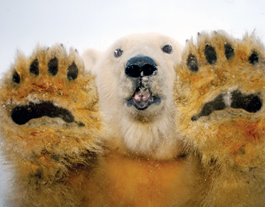 ęSteven Kazlowski/naturepl.com PAWS IN THE ACTION: A polar bear demands its close-up in 'Earth.'
Animal Planet
Disney's 'Earth': 100 years of nature documentaries, and the world's not getting any better
By Richard von Busack
A REMINDER that Disney's Earth—it's their planet, we just live on it—is an event, not a movie, comes right away, during the coming attractions for the sequel, shown before you've even seen the original. Here are small-screen excerpts from Disney's nature shorts of the 1940s–60s; here are reminders of the eight Oscars Disney has won in a format in which "Nature writes the screenplay," although this comment is as open to argument as the statement "Disneyland is the Magic Kingdom."
The advance preview for the Earth Day 2010 release of Ocean includes excerpts of old-time Disney; the clips suggest that Disney's tradition of filming animals began with Steamboat Willie Jr. and continued with Bambi. Those are two very different examples. If you went full Ambrose Bierce, you could point out that Steamboat Willie Jr. is an early cartoon example of the principle that hurting critters is funny: such as when the Mouse cranks a goat's tail to turn him into a living music box. Still, no hunter can ever reckon without what Bambi did to our imagination of the deer, once an animal considered nothing more than fast meat on the hoof. Deer hunters may bluster; they may jeer. They cannot forget.
Earth unveils a new logo for the Disney nature series: the Disney Castle in the form of an iceberg. Earth (originally created as a multipart BBC series Planet Earth) has wonderful stuff in it, if you're deaf. I'll take that slur back—if the film were silent you wouldn't get to hear a pride of lions woofing in Dolby, something that'll put the scare right into your medulla.
BBC and the Discovery Channel collaborated on Disney's Earth, but this is Disney's movie. It begins with James Earl Jones rumbling on the soundtrack as the sunrise is viewed from outer space—nothing, alas, as fulsome (or apt) as Nabokov's lines "and behold, with a gasp / Terra the Fair, an orb of jasp."
Holding the series of critter encounters together is the plight of a polar bear family—"Dad," "Mom" and two cubs, an heir and a spare—during the course of a year. We keep returning to these bruins in a documentary in which Man never appears. The smaller effects are stunning. Disney's Earth has fine trees. In helicopter shots, the boreal tree line emerges from the snow, the border between the ice and land marked as if on a map. Remarkable new time-lapse photography pans gently across a valley while observing the yearly change of a forest of deciduous trees from bare branches to scarlet leaves.
Peaceful moments don't sell. What's a movie without conflict: shark vs. seal, polar bear vs. walrus, lions vs. elephant, and cheetah vs. gazelle. The last of these battles, while bloodless, is almost pornographic. The herbivore succumbs as much as she is killed, in ultra-slow-motion. One feels bad about the outcome, but not that bad. As Orwell wrote, the gazelle is one of the few animals that look as if they would be good to eat: "You can't look at a gazelle's hindquarters without thinking of mint sauce."
In his biography of Walt Disney, Neal Gabler examines the studio's primacy in nature documentaries. Allegedly, Walt himself was so fond of animals that he even spared a worm he found crawling on a tree: "This is one of God's creatures, and we don't harm them."
In the 1940s, Disney had an encounter with Stanford president David Starr Jordan, an expert on the fur-seal territory debate between Japan and Russia. Thus Disney decided to make a documentary on the seal islands of the North Pacific. Disney's inspiration was to cut out most of the human factor: "More seals," he kept cabling to the photographers in the Arctic. RKO Studios, Disney's regular distributor, didn't see the percentage in it. Neither did Roy Disney, Walt's partner and brother: "Who wants to look at seals playing house on a bare rock?"
When Disney planted Seal Island in a Los Angeles theater to qualify for the Academy Awards, the gamble worked. Gabler writes, "Seal Island would become the model not only for Disney documentaries but for nature documentaries generally: a strong plot, anthropomorphized animals with emotions imputed into them, and a musical track ... which made the documentaries into real-life cartoons." And so forth, on to the non-Disney hit March of the Penguins.
While less expensive than hand-drawn cartoons, with no-star casts and small crews, the extravagance came in a 30-1 ratio of film exposed to the final film. Richard Schickel's The Disney Version may express ambiguous feelings about Walt, but the critic has nothing but admiration for Disney's unheralded nature photographers Al and Emma Milotte: "The tales of the patience and courage of the cameramen are endless."
Some of these tales: six-weeks' vigil over a slowly hatching alligator egg; 60 days inside a trailer in Africa's veldt until the lions were calm enough to allow themselves to be photographed at night, by searchlight. And five months on Beaver Valley, where Al Milotte was near breaking down when he couldn't get a close-up of one of the varmints chewing on a branch. ("Contrary to popular notion," Milotte said, "beavers are not always busy. Most of the time they just horse around.") Disney and his organization took these scripts "written by nature" and shaped them into melodramas. A National Geographic profile of Disney in 1963 quoted Walt's notes on The Living Desert: "Our heavy is the tarantula. ... Tarantula gets his and then Mr. Snake gets his."
Disney's Earth sticks with the successful formula. When we see a pride of lions lapping water together, their heads squeezed together by a telescopic lens, they look as conspiratorial as the Clanton Gang. It seems possible that Chuck Jones—always working in a career-long reaction against Disney—may have created the Roadrunner and the Coyote as a commentary on Disney's nature shorts. In those cartoon gems, the roles of "heavy" coyote and innocent road runner get blissfully scrapped. Mr. Coyote certainly gets his.
Schickel writes, "There is no moral hierarchy among the species, and the business of 'cuing' response through music, narration and film editing ... leads to this sort of ranking by the spectator that is reprehensible." That's the downside of Disney's Earth. The technology has changed; it's improved brilliantly. But the formula is same-old, same-old.
Here is more rumbling narrator and more overwrought music. (We hear Celtic keening when a prey animal gets it in the neck.) We sometimes learn a little something about the land—we hear we're in the Himalayas, the Serengeti or the New Guinea habitat of the aptly named birds of paradise.
Maybe the most stunning part of this film is the mating dance of one of these marvelous birds, flashing its neon-bright iridescent turquoise feathers. The scene, however, is marred by the gag writing. "Git down!" James Earl Jones rumbles as a different bird of paradise dances. After an hour of hearing explanation pitched to the children in the audience, it gets under your skin; watching a group of fussy baboons trying to cross a flooded lake you start to think they have that familiar look of exasperation you see in commuters caught in a rain storm.
Telling stories about animals is one way we express dominion over them. When critters appear to us as cute or models of good behavior—there to set an example for us in fidelity or perseverance—we've stopped looking at them and started looking at ourselves again.
To the organization's credit, Disney bites the bullet: "The planet is warming," Jones says, leaving no room for backpedaling in this noncontroversial noncontroversy.
But the ending is happy—they always are in the critter shows. Filming wildlife is ever more popular, not just because so much of humanity is walled away from nature in cities or suburbs but because we're aware we may be seeing the last of so many species. And Disney's Earth couldn't be better from a marketing point of view or for its Earth Day timing: few feature filmmakers today have an idea of how to make a film any age can enjoy, as opposed to serving whichever demographic they think is best.
It's the old viewers who might be most solaced by Disney's Earth. This audience is accustomed to being lulled to sleep at the end of beery Sundays by the nature shows on KQED, just as their grandfathers were put into narcosis by Schlitz and Mutual of Omaha's Wild Kingdom, which was broadcast at roughly the same day and time slot some 45 years ago.
The model is case-hardened; it's less cute than Disney's heyday but edited for the upbeat. Always, delicate creatures make narrow, unlikely escape signifying the fate of a whole endangered species: "The marmoset is safe ... for tonight. But how long can the whiskered monkeys of Venezuela hold their dominion against the invasion of Man?" On the one hand, the film reminds the gentle viewer of how many of the Earth's creatures are hanging on by a thread; on the other hand, it assures these viewers that some providence will look out for them—and so to bed.

EARTH (G; 90 min.), a documentary by Alastair Fothergill and Mark Linfield, plays valleywide.
Click Here to Talk About Movies at Metro's New Blog
Send a letter to the editor about this story.