04.22.09
home | metro silicon valley index | movies | current reviews | film review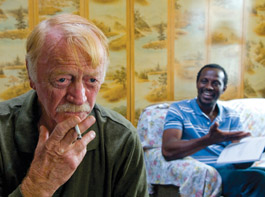 ODD COUPLE: Red West (left) and Souleymane Sy Savane form an unexpected friendship in 'Goodbye Solo.'
Taxi
A cabbie and his mysterious passenger drive by night in 'Goodbye Solo'
By Richard von Busack
RAMIN BAHRANI'S third movie is his first to be released in the South Bay. His earlier films, Chop Shop and Man Push Cart, have been greatly praised, and A.O. Scott and Roger Ebert are claiming that here is, at last, a great new talent. I was expecting a big deal from his new film, Goodbye Solo, his first to be filmed in Winston-Salem, N.C., where the director grew up. What's up front, though, tends to have the same mix of the overcooked and the half-baked as Wendy and Lucy. Bahrani mixes his naturalistic technique with some vintage old-movie motifs drawn from pulp fiction—especially the private detective who takes a beating for his client. Not until the end do all of Bahrani's ideas come together in a really startling way. The film's climax takes place at North Carolina's Blowing Rock, a slippery outcropping jutting into infinity. The director matches the blue-gray fog that thickens visibly over the last scenes with the hero's yearnings to be a man who works in the skies, as a flight attendant—and, in implication, as a potential life saver. Here Bahrani found a spot where all his themes converge, and where the edge between life and death is as clear as the room around you. The Solo (Souleymane Sy Savane) of the title is a Senegalese immigrant who works nights as a cabbie in this half-empty city of abandoned textile plants. Solo has a regular customer: "Big Dog" he nicknames him, though his real name is William. He's an old, taciturn redhead who has one regular excursion, from his motel to the movie theater. Solo's name has to be an irony; he's a man of incandescent warmth, who believes in the principle of Mi casa es su casa. When Solo and William go out for beers, the old man ends up spending the night at Solo's house. When Solo has troubles in his own marriage and needs a couch to crash on, he tries to get some reciprocation: William grudgingly moves his stuff over and gives the cabbie some room to sleep in. There is a deadline to what seems to be a character-driven story of two lonely men. Early on, we learn that Solo has been hired to take William up in a mysterious trip to the mountains—the date is firm, fixed, some three weeks hence. Solo smells trouble and begins poking around in William's affairs to try to find out what the elder man is up to.
Bahrani's John Sayles–like focus on little people is commendable, but Goodbye Solo shares that quality that makes one generally not go back for seconds on Sayles' movies: the same under-rehearsed quality, the same repetition of points. Like Sayles, Bahrani is lucky in his choice of actors. Savane's beatific style—the state of grace in which he seems to exist—makes up a character that is, at times, like a fantasy of Third World open-handedness. Yet he's an unalloyed pleasure to watch. Old William is played by a nonprofessional: Red West, ex-football player, former Elvis bodyguard and co-author of the exposť Elvis: What Happened?; he looks like a down-home version of John Hurt. West's haunted eyes are nothing but authentic; they belong to a man who could literally tell a sad story or two of the death of a king.

GOODBYE SOLO (Unrated; 91 min.), directed by Ramin Bahrani, written by Bahrani and Bahareh Azimi, photographed by Michael Simmonds and starring Souleymane Sy Savane and Red West, opens April 24 at Camera 3 in San Jose.
Click Here to Talk About Movies at Metro's New Blog
Send a letter to the editor about this story.