04.15.09
home | metro silicon valley index | movies | current reviews | film review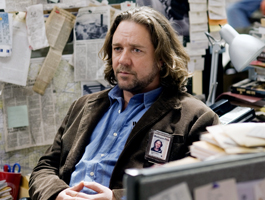 Glen WilsonŠ2009 Universal Studios CLEAN UP YOUR WORK AREA: Russell Crowe indulges the stereotype that all reporters keep really messy cubicles
Scoop
'State of Play' celebrates the last hurrah of the hard-charging cinematic journalist
By Richard von Busack
THE NUMBER of newspapermen heroes in cinema has dwindled to an all-time low. Russell Crowe's Cal McAffrey, a rumpled slob of a "Washington Globe" investigative reporter in State of Play, may be bringing down the curtain. It's hard to think around that sentimental feeling that makes one well disposed to a pretty good if slightly underpowered and overlong journo-thriller. The intro wells up the emotions, with Crowe—battered, shaggy, unusually humane—listening to "The Night Pat Murphy Died" by Great Big Sea as he rides around D.C. in a rolling trash can of a Saab. He looks authentic enough, but you must overlook the fact that he gets into something very unwise. He ought to have the sense to avoid a story in which he has significant conflict of interest. The action begins with the execution-style shooting of a petty thief and the clipping of a wrong-place-wrong-time witness. These two attacks are followed by a suicide at a Metro station by the personal assistant of Pennsylvania Congressman Stephen Collins (Ben Affleck). It turns out that the congressman was Cal's college roommate, and that Mrs. Congressman (Robin Wright Penn) was better friends with Cal than her husband might like. Collins, a Gulf War vet, is chairing hearings on a private security company.
Certainly, black water is a visual motif in director Kevin Macdonald's remake of the British TV miniseries of the same name. He films in Washington during the winter, making every reflecting pool look like a bottomless lake. There are many shots of the cold, rain-swollen Potomac as well as dark helicopters keeping an eye on the cast. State of Play teems with various sinister figures, including the congressional majority whip (a veal-colored Jeff Daniels) and of course Affleck himself, an actor always potentially guilty of weaselry for the crime of being too handsome. Viola Davis of Doubt shows up as a worried coroner, playing a gentle moment in a three-shot of herself, Crowe and an autopsied liver sitting on a butcher's scale. Jason Bateman gives good smirk as a slimy publicist (an obvious villain in a movie about the end of the newspaper world—where else is someone like Cal supposed to go except into publicity)? As the boss, Helen Mirren uses her ambiguity to justify the plaque on Cal's desk. It reads "Never trust an editor."
One of the signs of the times is Cal's partnership with the young blogger Della Frye (Rachel McAdams). The movie is at its most likable when it comes down against the derailment of political careers by the morals clause, especially in the face of more genuine menaces to society. State of Play is smart enough to blend the Chandra Levy and Vince Foster cases, but it's also wise about the current drift in journalism; in one scene Macdonald poses young Della in spectacles and pajamas like the Wonkette.com mascot. One line (it certainly sounds like the work of co-writer Tony Gilroy) celebrates words on paper instead of a screen: "A story this big ought to leave newsprint ink on the reader's hands!" It's perhaps a last hurrah for a long cinematic tradition of crusading daily newspaper reporters.

STATE OF PLAY (PG-13; 127 min.), directed by Kevin Macdonald, written by Matthew Michael Carnahan, Tony Gilroy and Billy Ray, photographed Rodrigo Prieto and starring Russell Crowe and Ben Affleck, opens April 17.
Click Here to Talk About Movies at Metro's New Blog
Send a letter to the editor about this story.