04.22.09
home | metro silicon valley index | music & nightlife | band review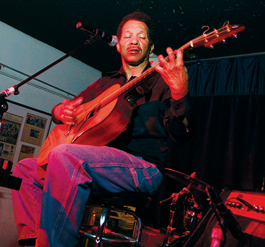 Photograph by Felipe Buitrago BLUES IN RED: Gene Washington performs at JJ's Blues.
All Blues
By Colleen Watson
THE LONE SINGER was bathed in soft red light, an acoustic guitar perched on his knee. He swayed to a mellow beat and sad lyrics. Gene Washington, also known as Mr. Blues, sat on a stool on the raised stage at venerable blues haven JJ's Blues, a snifter of brandy in his hand. The mood was relaxed, and I felt like I should have been smoking a cigarette and drinking a whiskey instead of munching on New York–style pizza from next door (which you can bring back to the bar).
The walls of JJ's Blues are covered with photos of the blues singers; some I recognized, but since I'm a neophyte, most were a mystery to me. A piano is positioned against a wall on the tiny little dance floor. In the back, there is a little lounge room with soft plush couches, where the onstage action is projected live onto the wall so you don't have to get up to see the musicians.
After Washington, Suzi Q and her band went on. They were more upbeat with a full four-piece band, and the bar started to fill up. But no matter how big the crowd got, the vibe remained decidedly mellow, like fine whiskey or a well-polished blues lick.
JJ's Blues
3439 Stevens Creek Blvd, Santa Clara; 408.243.6441.
Send a letter to the editor about this story.