04.22.09
home | metro silicon valley index | columns | style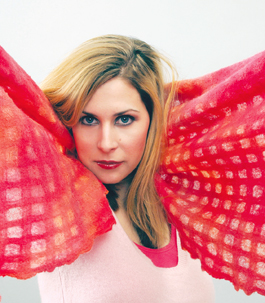 FRUIT OF THE LOOM: Artist Stacy Zink hand-weaves all of her textile creatioms, like this windowpane scarf.
Style
Art as Fashion
By Jessica Fromm
STEEL SPRINGS. Circuit-board pieces. Hand-dyed wool. Even the humble Lego. Art-to-wear creations can be inspired and made out of virtually any medium. At STYLE 2009, Palo Alto Art Center's fifth annual art-for-wear trunk show, the imaginative contributions of more than 35 textile, clothing, accessory and jewelry designers will be on display and ready for purchase.
The fundraising event, which takes place April 25, touts itself as a pioneering supporter of the "slow fashion" movement. Akin to the much-publicized "slow food" movement, slow fashion emphasizes a personal approach to clothing with an awareness of sustainability, like the use of recycled, natural and organic materials to make garments.
Reware by Emiko-o
Emiko Oye, a jewelry designer participating in STYLE 2009, has taken the use of salvaged materials into the heart of her art. "I mostly work with repurposed and recycled materials," says Oye. "I use repurposed Legos from different Lego kits that people have given me, or that I picked up over the years."
For the last four years, Oye has been combining used Legos and plastics with sterling silver, gems and gold. Called "*e*oware," her retail jewelry line is made entirely by Oye in her small San Francisco apartment. She says she first got inspired to incorporate Legos into her art after a trip to the Lego store.
"I went, and I was blown away," she recalls. "They had these walls of Legos, and it was in bulk. You could just grab handfuls of different stuff. So, that was the starting point, and then I started making jewelry from it. I try to get as much repurposed Legos as possible, rather then having to buy more new stuff, doing that whole consuming business."
The result of Oye's inspiration is totally unique, chunky jewelry made from the small plastic linking toys. She combines different colors and shapes of Legos into geometric bracelets, necklaces and earrings that retail for $35 up to $350.
Oye says she immediately got positive responses from customers when she started showing and selling her Lego jewelry works at trade shows.
"People were really relating to the Legos," she says. "They had these stories to tell me, and they wanted this work because they had a nostalgic connection to the Lego. It's colorful and playful, which is why they were so into it."
Oye also makes limited-edition jewelry pieces out of scrapped circuit boards and Plexiglas. She hopes her jewelry lines show people that adornments don't have to be made from precious metals to be viewed as beautiful and valuable.
"Back in the day, it was all about gold, diamonds and platinum as the only way of giving value to jewelry. But today, there is more acceptance of alternative materials having value. Now, it's about who made it, what was their vision and their purpose for it. So today, Legos can have as much value as something that was made with gold, because it meant so much to the person."
Maja Designs
Maja, a Carmel-based jeweler, also takes an untraditional approach to her ornament concepts. She considers the pieces she will be showing at STYLE 2009 to be small-scale architecture. "My work is contemporary and edgy," says Maja. "It's for people who are looking for a unique statement. People who appreciate original ideas. People who appreciate more of the concept of wearing art, as opposed to wearing just decoration."
Maja fabricates all of her handmade art jewelry herself, often starting out with flat sheets of metal and molding them into hollow forms. Her distinctively stark and architectural rings, brooches and pendants, which sell from $95 to $2,500, combine everything from plastic to pearls, often in the same piece.
"Architecture is great, the use of positive and negative space. I like accessing spaces that are often inaccessible. My work often has perforations or slices that allow you to get to the interior of things," Maja says. "Everything comes from my hands. I use primarily silver, but I also use items from the hardware store, like steel springs and rubber O-rings. I use gold and copper, though I often times obscure them so they're not recognizable in their normal forms. I darken them, I stress them, and I perforate and puncture them."
Stacy Zink Wearable Art
Hailing from Beverly Hills, textile designer Stacy Zink has taken an exceptionally hands-on approach to the clothing she will be showing. Her line of hand-woven, hand-dyed wool clothing and accessories includes ponchos, scarves and sweaters.
"I do everything myself from start to finish. I buy the yarn, then it's dyed, then it goes on the loom. I weave it, it comes off, then I cut and sew everything also," says Zink. "Where I'm focused right now in my work is a merino wool and a crepe wool. I combine the two together on the loom, and I go for shrinkage differentials. So, one fabric shrinks more than the other fabric, so you have, like, puckers or pulls or, like, see through the fabric."
Zink describes her wearable art as "earthy, funky. A lot of my stuff looks like it has a windowpane effects. People are really drawn to my color combinations. My inspiration comes from nature, and from urban scenes. Its very painterly." Her works range in price from $90 to $500.
Kirschner Design Inc.
Susan Kirschner's clothing designs also celebrate unexpected elements. She and her team of seamstresses work out of a Berkeley-based studio, where they make distinctive women's ready-to-wear daywear.
"My background being art-to-wear, everything has to have a slight twist to it," says Kirschner. "My inspiration always starts with the fabrics. I always think of my fabrics as having secrets, and I just have to find what the secret is."
She says that her new collection, called Travel Trio, is made from versatile cotton/polyester fiber, which is hand washable and travels well.
"Fabrics are really important these days. I use a lot of fabrics that don't wrinkle, that can get you from an early morning meeting into later evening, and then to dinner," she says.
THE STYLE 2009 ART-FOR-WEAR TRUNK SHOW AND SALE takes place April 25 at the Palo Alto Art Center at 1313 Newell Road, Palo Alto. The event is open to the public from 10am to 5pm, and tickets are $10 for nonmembers. (650.329.2366 or email [email protected])
Send a letter to the editor about this story.