04.22.09
home | metro silicon valley index | columns | style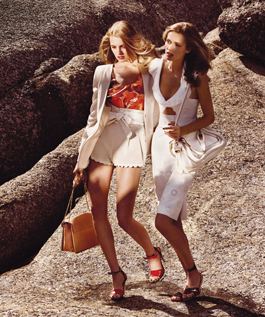 TRAIL BLAZER: White, highly padded blazers brought back the '80s in the Chloé summer 2009 line.
Style
Shoulders of Giants
By Jessica Fromm
MOVE OVER, Joan Collins, shoulder pads are back with a vengeance in 2009. The linebacker aesthetic made famous by the highly hair-sprayed ladies of Dynasty has been pumped back up on the spring 2009 catwalks.
From ballooning puffs to sharp angular shapes, the new wide shoulders hark back to the decade of the power suit, and it is a sure bet that '80s-style padded jackets and blazers will be all over the retail chains by next fall.
Erin Fetherston has been sending whimsical puffed sleeves down the runway since fall 2008, and Cynthia Rowley's spring 2009 line boasted some very pointy-shouldered vests and dresses, not to mention the fact that all her models were styled straight out of a Robert Palmer video. The Chloé ready-to-wear summer 2009 collection was all about the Miami Vice blazer, big shoulders and scrunched-up sleeves.
But how did shoulder pads, a much-maligned fashion faux pas a mere two years ago, go from sartorial no-no to chic? The answer most likely lies in our downward spiraling economy. Historically, big shoulders come into fashion during times of either great prosperity or great hardship. Structured shoulders were vogue in the austere times of World II, and of course bigger was always better in the greed-driven Reagan era.
When people have something to prove or need an injection of confidence, bulky shoulders show it. The dangerous state of the current work environment is causing women to seek power-infusing office wear, and oversize shoulder pads and sharply tailored jackets do the trick. Plus, square proportions at the shoulders can make the waist look smaller, never a bad thing no matter what the stock market is doing.
For those not quite ready to go down this road again, with its need to strap mountains of foam on the shoulders, smaller structured pads or a slightly feminine puff sleeve on a tight jacket will also work.
The return of this trend was inevitable. With leggings, high-wasted skinny jeans, acid washes and leg warmers hitting the mainstream for another go-round, it was only a matter of time before the Judy Jetson look came back into style. What's next, the return of the scrunchie? God help us.
Send a letter to the editor about this story.