04.23.08
home | metro silicon valley index | columns | silicon alleys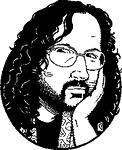 Silicon Alleys
Cycling Mecca
By Gary Singh
IF YOU'RE one of the thousands who've trudged their way through the knee-high piles of bike parts in the yard of Faber's Cyclery over the years, you will be blown away by how clean and orderly the place is these days. Located at the corner of South First Street and Margaret, Faber's is one of the oldest buildings in the South Bay and it soaks in over a century of history. The place was a corner saloon in 1884 and has been a bicycle business since 1921.
Alexander La Riviere has owned the place for three decades, and is now right in the middle of hosting three Sunday Talks at Faber's in the back yard. The first lecture took place on April 13 and the next two will be this Sunday and the following Sunday, April 27 and May 4, respectively. The events are free of charge and you will learn more than you ever possibly imagined about all things related to the history, sociology, philosophy and probably theology of the two-wheeler. He'll break out historical photos, bikes and memorabilia no one else has.
Faber's has always been San Jose's mecca for vintage bike enthusiasts, and the place is like a ramshackle museum where you'll find brand spanking new boxes of components right next to a dusty 1941 Schwinn frame. People from all over the county show up to swap bikes, get their rig fixed, look for obscure parts or just revel in the sheer history of the place. It looks like a rundown shack from the road, but it's actually a gearhead's paradise on the inside. Whether you're looking to hotrod your '50s cruiser or just assemble a beater piece of junk to get you from dive bar A to dive bar B, Faber's has always been the place. These guys can probably cobble together a working bicycle from scratch parts faster than most people can take a new one out of the box.
Sunday Talks at Faber's are a joint effort between Faber's and artist Alex Clausen and are actually part of a larger endeavor called "The Distributed Exhibition," a collaborative project produced by Sara Thatcher and the San Jose Institute of Contemporary Art (SJICA), featuring several site-specific artworks at locales in the vicinity of SJICA.
One cannot yak with La Riviere without getting buried by his overwhelming and beautifully twisted encyclopedic knowledge of bicycles. He's also one of only a few qualified forensic experts in bicycle accidents in the country, and he often gets called upon to testify in court on such matters. With both him and his brother Anthony, sometimes it's hard to get out of that place in less than an hour because these guys are just so passionate about their trade that they can't stop talking about it. 
For the lectures, La Riviere will discuss the entire history of bicycles, from 1791 to the present, how it parallels the histories of slavery and women's suffrage, and how the whole narrative intertwines with the rise of the blacksmith and sewing machine industries in the 19th century. He will pull out an entire 50-foot-long visual timeline and spread it across the front of the shed out back. He will display several bicycles circa 1880–1895, and he says it takes about three hours to set up everything for the show.
Sadly, everything in this town comes down to real estate, and the property upon which Faber's sits is on the chopping block, meaning that it's only a matter of time before some heartless inhuman monster swoops in, buys the property and flattens the place. Either that, or it will mysteriously burn down like other buildings that seem to prevent developers from having their way. La Riviere realizes that the fate of Faber's is out of his hands, but he at least wants to see the building preserved. "My hope is to make it a neighborhood learning facility that would promote history and cycling in general—not just San Jose, but for everything," he says.
SUNDAY TALKS AT FABER'S happen the next two Sundays (April 27 and May 4) at 2pm at Faber's Cyclery, 702 S. First St., San Jose. To RSVP, contact the San Jose Institute of Contemporary Art: 408.283.8155.
Contact Gary Singh or send a letter to the editor about this story.