04.23.08
home | metro silicon valley index | the arts | books | review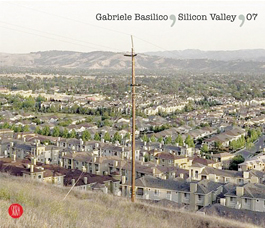 Gabriele Basilico
Silicon Valley, 07
By Michael S. Gant
Italian photographer Gabriele Basilico specializes in large, pitiless urban landscapes. Last year, the San Francisco Museum of Modern Art commissioned him to chronicle his vision of Silicon Valley. Given the source of his patronage, Basilico found the heart of Silicon Valley in San Francisco, then migrated south along the freeways, photographing first peninsula cities, then Cupertino, Santa Clara, Milpitas and Mountain View before getting to San Jose. Fully half the almost 100 images are of San Francisco—we can't get no respect. The digital pigment prints on display at the museum (the show runs through June 15) are horizontal in format, mostly 24-by-31 inches and mostly black-and-white with a smattering of color. For this coffee-table catalog, the photographs have been reproduced at a uniform 8-by-10-1/2 inches. Treating the images as a journey, Basilico begins with from-on-high vistas of San Francisco; some shots of angled streets cutting through the business district express an abstract formalism. At ground level, Basilico concentrates on streets that seem eerily empty of human activity. The first Silicon Valley vista is taken across an empty stretch of freeway (how did he manage that?) toward four gleaming computer-firm office cubes in Santa Clara (the minimal IDs at the back of the volume offer sparse clues to exact location beyond city names). The Oracle headquarters, all horizontal bands encasing three cylindrical tiers, rises from a weedy field, dwarfed by a power-line tower. The hangers at Moffett Field look like abandoned temples of an ancient civilization. Out of place amid the company campuses, townhouses and mobile-home parks is humble Henry's Hi-Life, proof that even a clinician like Basilico is not immune to local color. A shot across the sun-baked no-man's land in front of San Jose's much-touted new City Hall captures perfectly how sterile the complex can be—a tiny lone figure stares into the windows of the squatty, domed tower, perhaps wondering when the next hunger strike commences. Like south San Jose itself, the photographs drift aimlessly into housing sprawl and finally an empty field. This is decidedly not the kind of book that the Chamber of Commerce would want to dispense as convention swag. It's as if a futuristic surgical weapon had wiped out all the people but left the buildings and cars intact, waiting for their new alien occupants. The book includes an interview with Basilico and a brief history of Santa Clara Valley that ends a few years too early with the dotcom bust of 2000–01.
(Edited by Sandra Phillips and Filippo Maggia; Skira/Rizzoli; 157 pages; $50 hardback)
Send a letter to the editor about this story.