04.23.08
home | metro silicon valley index | silicon valley restaurants | review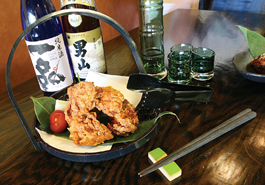 Photograph by Felipe Buitrago
CRISP CROSS: The Deep South doesn't have a monopoly on deep-fried, as Sumika proves with its Eastern take on fried chicken.
Fry Around The World
Forget Kentucky—in Silicon Valley, fried chicken is international
By Stett Holbrook
FRIED chicken ranks up there with apple pie, hot dogs and hamburgers for its totemic heft as a quintessential American food. But to get the real thing you have to travel south of the Mason-Dixon line where cast-iron-skillet-wielding cooks are schooled in the secret arts of frying chicken from an early age. Right?
Well, no. The South has not cornered the market on good fried chicken. In fact, you can get some pretty great fried chicken right here in Silicon Valley that harks not to the South, but to the East. And I don't mean the East Coast.   
  John T. Edge, a Southern-fried food writer and scholar of the Dixie diet past and present, penned a tasty little book on the subject of fried chicken called, appropriately enough, Fried Chicken: An American Story. At first he held to the conventional wisdom that to make real fried chicken you have be born and bred down South. But in time he discovered such a notion is hogwash.
"Fried chicken is not distinctly Southern; maybe it's not even distinctly American," writes Edge. He adds: "If fried chicken is American, then it denotes an American identity that accommodates cooks from a plethora of traditions."
As a relatively low-cost dish, chicken fried in oil (or in some cases lard or Crisco) is a blank canvas upon which people from different culinary traditions apply their techniques and flavors. Given Silicon Valley's substantial Asian population, it's only natural for Asian cooks to put their spin on the dish here. The following are three noteworthy sources for Eastern fried chicken that put Col. Sanders to shame.
Sumika Grill is a hideaway restaurant/pub in Los Altos best known for its kushi-yaki, delicious bamboo-skewered meats cooked over the blazing heat of binchotan charcoal, a hard, long-burning charcoal made from Japanese oak. But the karaage (fried) chicken is a must-order as well.
Unlike katsu chicken, which is coated with egg and bread crumbs, the karaage is dusted just with seasoned flour and fried in canola oil. Somehow the ragged hunks of boneless organic chicken come out of the oil virtually grease-free. The crust is a tawny blond, and light and crisp, while the chicken itself fairly squirts with juicy goodness. A squeeze of lemon really sets it off. Cold beer works well, too. Some would quibble that because the chicken is boneless it's disqualified as fried chicken, but I'm not willing to split that hair. 
The dish is listed on the menu as Sumika's "famous fried chicken" and deservedly so. For lunch, the chicken is served with miso soup, a small salad and tsukemono, Japanese pickles. It's a real deal for $8.
While the fried chicken at Sumika Grill is a side attraction, at 99 Chicken in Santa Clara it's the star. 99 Chicken is the place for Korean-style fried chicken, an austere but delicious take on crispy chicken. There's a menu of more traditional Korean dishes, but I didn't bother.
Korean fried chicken joints are apparently very popular in Seoul and have been popping up in New York and now California. Unlike Western-style fried chicken, which can have a flabby layer of skin between the meat and the crust, Korean chicken is rendered of its fat and produces smooth pieces of meat with a taut, shatteringly crisp epidermis.
Each batch is made to order. No heat lamps here. The chicken is lightly dredged in flour and plunged into the fryer. It takes a while, but when the buzzer sounds about 15 minutes later, the legs and wings (no breasts or thighs) come out a nutty brown, not greasy and quite good.
I went for the regular chicken (five pieces $6.99) but it's also available spicy, sweet or with sauce. Once you crack through the crispy mantle of skin, it reveals moist, tongue-searing, hot meat. The only condiment served with it is a mixture of salt and pepper. Like the chicken itself, it's a simple, but good. You can also help yourself to the salad bar which includes standard green salad fixin's as well as marinated daikon radish and sliced cabbage to remind you this ain't no KFC.
The walls of the restaurant are papered with Korean tourist posters of cool mountain lakes and hundreds of snapshots of customers happily eating fried chicken. The country music playing on the stereo is a nice touch, too. There are also signs that tout the health benefits of frying chicken in cottonseed oil. I can't vouch for that but I can say the chicken is quite good.
In Milpitas, Savory Chicken offers a Filipino take on fried poultry. The restaurant has been in business for 19 years and is one of the bright spots in a lonely little shopping center just off Interstate 680. The restaurant is part of a Philippines-based chain that store owner Ernest Santos says plans to expand further into California.
While the company and most of the clientele is Filipino, the brittle-skinned chicken owes its provenance to China, says Santos. The chicken closely resembles Chinese "paper fried chicken." The chicken is tossed in a proprietary blend of herbs and spices and fried in soybean oil. No flour or bread crumbs are used. The result is an almost translucent skin that is so crisp it shatters upon contact with your teeth and then sticks to your fingers.
I love all the condiments served with the chicken: chile paste, white vinegar with onion and pepper and fish sauce. Best of all may be the Thanksgiving-style brown gravy. I doctored my chicken with a splash of the white vinegar and then a dunk in the gravy. Very good.
The chicken is served as combo meals with various side dishes including fried rice, wonton soup, pork-filled eggrolls and pan de leche, a sweet, fluffy white roll. The combo meals go for about $7.50. A whole chicken sells for $10.50. All the sides I tried, especially the bland wonton soup, were unremarkable. It's all about the chicken.
Is Filipino (or Korean or Japanese or whatever) fried chicken American? What is American food in this multiethnic land of ours? Who's to say Chinese-style fried chicken served with egg rolls and fish sauce in a Filipino restaurant isn't more American than fried chicken with mashed potatoes and gravy? We're a diverse country and we've got the fried chicken prove it.
SUMIKA
 Address: 236 Central Plaza, Los Altos.
 Phone: 650.917.1822.
 Hours: Lunch 11:30am–2pm daily and
 dinner 6–10pm Mon–Thu, 5:30–11pm Fri, 5:30–10pm Sat, and 5–9pm Sun.
 Cuisine: Japanese.
Price Range: Fried chicken lunch $7.
99 CHICKEN 
 Address: 2781 El Camino Real, Santa Clara.
 Phone: 408.244.5599.
 Hours: Noon–midnight daily.
 Cuisine: Korean.
 Price Range: Five-piece plate $6.99.
SAVORY CHICKEN
Address: 1557 Landess Ave., Milpitas.
Phone: 408.945.8616.
Hours: 11am–8pm Mon–Sat.
Cuisine: Filipino.
Price Range: Combos meals average $7.50.
Send a letter to the editor about this story.