04.23.08
home | metro silicon valley index | movies | current reviews | dvd review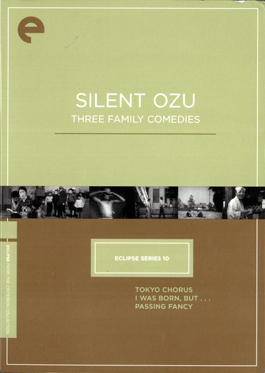 Magic, Loss
Ozu's silent family comedies: everybody plays the fool, sometimes
By Richard von Busack
WHEN Toshiro Mifune scratched his insect bites in The Seven Samurai, maybe it was a gesture he picked up from Yasujiro Ozu's 1933 feature Passing Fancy, one of three silent comedies available in a new Criterion/Eclipse set. Passing Fancy is about the sometimes slapstick relations between a broke, hard-drinking father Kihachi (Takeshi Sakamoto) and his mischief-prone son, Tomio. The son is a phenomenally good kid actor, the frog-faced Tomio Aoki, a.k.a. Tokkan Kozo. A star of many Japanese films of the 1930s, Aoki took his stage name from Ozu's 1929 Tokkan Kozo, a version of "The Ransom of Red Chief." Aoki and Sakamoto carry out mischief that is as modern as the push and pull between Bart and Homer Simpson.The opening shot of Passing Fancy glides past the crowd at a flea-pit live theater during a heat wave, where a crowd is dressed about as well as refugees. The second-rate performance is interrupted by bug attack. Later, Ozu keeps returning to an exterior shot of the monumental gasworks towering over the one-story slum. Silently, he insists on the environment pressuring the single father, a part-time pick-up labor at the local brewery, as well as his stern but loyal buddy Jiro, an ex-soldier. This squalor is one more reason why a new girl in town stands out. She, Harue (Nobuko Fushimi), is an out-of-work factory girl who distracts both men from their lives. Passing Fancy is probably one of the films critic David Thomson was referring to when he claimed Ozu's films prefigure Italian neorealism. It isn't quite The Bicycle Thief though; there's more playfulness, less reportage and less direct melodrama. There is even some risky comedy about a mortally ill child.
Also in this set is Ozu's Tokyo Chorus (1931), about Japan coping with the worldwide depression, and his famous 1932 film I Was Born, But ... . The latter (which screened this year on the big screen at the California Theatre during Cinequest) is essential viewing. Two brothers (one of whom is played by young Aoki) move into a raw new suburb of half-grown trees, with the railway line practically in the front yard. It's a step up for the family. Unfortunately, the boss (Sakamoto again, this time a snob instead of a sot) lives in the neighborhood. Thus the family's father (Tatsuo Saito) is now obligated to do a bit of social kowtowing. And as new kids in town, the children are bullied by a gang. It's only after they fight their way in that they learn of their own father's place in the pecking order of life. It's a bitter lesson, and it causes the boys to turn on their father and tell him off: "You're nobody."
The importance of rank is more important to a child than an adult even, and Ozu sees both sides of the quarrel. In these films, the famous floor-level angle of Ozu's camera really makes it seem that he's sitting at the feet of children and adults, and learning from both. If there were only something today like an American benshi, the performer who explained subtitled film to the illiterate, so that the children of today could enjoy I Was Born, But ... . It's very rare to see someone who understands the child's sense of magic and loss as well as Ozu did. While people always mention "resignation" in Ozu's films, these early works are about wanting what you want, whether or not it is in your fate to have what you want. It's likely you've never seen such Japanese films, in which the order of things comes under such question.
SILENT OZU, ECLIPSE SERIES 10; three discs; Criterion Collection; $44.95.
Send a letter to the editor about this story.