04.23.08
home | metro silicon valley index | movies | current reviews | film review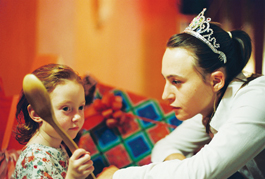 ODD COUPLE: Sarah Adler's Batya befriends young Nikol Leidman in 'Jellyfish.'
Tangled Web of Life
The Israeli film 'Jellyfish' drifts along with the tossing and tumbling residents of Tel Aviv
By Richard von Busack
SO MANY MOVIES try to get into the collisions and coincidences of city life, the little nicks and abrasions we inflict on one another. For every Slacker, there are too many films that imagine that the Big Web of Connection is more about duty than beauty. In Jellyfish, we get the God's-eye view of connections, but that doesn't weave this bright and fine film into a pat little daisy-chain of social problems.  
Jellyfish is a 78-minute work directed by Israel's Etgar Keret, a graphic novelist, teacher and littérateur, whose work is like a far more piquant version of Paul Auster. Keret co-directed Jellyfish with scriptwriter and partner, children's-book writer Shira Geffen. Previously, Keret wrote the novel Missing Kissinger as well as a graphic novel titled (in English) Pizzeria Kamikaze, which was adapted into the film Wristcutters: A Love Story. It, too, was a tale of collisions and coincidence, set in a purgatory for post-suicides. There, the newly dead worked the same dead-end jobs and puzzled through the same hard-to-suss-out relationships as they had on Earth.
The winner of the Caméra d'Or last year, Jellyfish is about a lot of misguided subjects looking for an object. It is consistently funny, both ha-ha and peculiar. Yet the film doesn't feel slight or attenuated. The actors get in fairly deep; they express the attractions, the push and pull, of Israeli urban life.
Keret and Geffen's version of Tel Aviv is a place where everyone is a natural, dry comedian, with a great gift for denial and a salesman's ability to turn around any complaint. An example: The landlord comes in to raise the rent. The renter tells his landlord that the ceiling is leaking, and the landlord retorts, "What ceiling?"
That renter in question is the pretty, 20ish waitress Batya (Sarah Adler), whose boyfriend just headed for parts unknown. She can barely bring herself to bleat out the word "Stay ..." as he goes, and then it's time to cater a wedding. Her point-of-view is a waltzing camera, moving among the guests to find the bride.
No bride. Keren the bride (Noa Knoller) gets trapped in a toilet stall in the women's room and breaks her leg crawling out. This cancels the honeymoon. ("Whaddya need the Caribbean for? You got each other," grumbles the doctor.) Instead, Keren and her soulful Russian husband, Michael (Gera Sandler), go to a nearby, half-finished seaside hotel. The Mediterranean, too, isn't what it used to be. "Why do I want to go to the beach? It's nothing but dog shit and jellyfish," grumps an elderly woman later on.
In the honeymoon hotel, Keren is prostrate with a bad leg and Chronic Dissatisfaction Syndrome; changing rooms just changes aspects of the bad hotel experience, from smelly drains to jackhammers to a broken elevator. This might have been an irritating plot thread if Knoller didn't have such lush, satiny curves and such an adorable pout; at different angles, she reminds one of Gina Gershon and Amanda Peet. The new husband, baffled by his wife's unhappiness, becomes friends with a female writer. The writer is looking for help spelling the phrase "ending in disgrace."
Some connection arrives for all the characters, including the Filipina guest worker Joy (Ma-nenita De Latorre), who is pining for her child overseas, and Batya's colleague at the horrible restaurant, a morbid-looking wedding photographer who turns out to have an archive of home movies. 
Batya finds another friend: a mute, mysterious little 5-year-old girl in a bathing suit and with a donut-shaped pool float, who attaches herself to the waitress. This lost child might have been too much like the dancing baby in Ally McBeal, but the role is unsweetened by Niokol Liedman. If she's like a red-haired sea nymph, she's also a little like a goblin. When she runs off, the general description of her is that "she has sad eyes"—pretty useless in a film where everyone does. And when Batya reports the motherless child to the police, she opens another window of dejection: the sad-eyed desk cop fans out a stack of unfollowed-up missing-person reports and mutters, "Look. There isn't even a folder."
Christopher Bowen's watery ambient music—together with a cover version of "La Vie en Rose," which somehow doesn't sound as rosy in Hebrew—adds extra polish to this comedy of decay and regeneration. Israeli film is a cosmopolitan cinema, peppery and sophisticated, made by people too much under the threat of death to be trifling, and too harassed by the woes of modern life to be starry-eyed. Often, it's a cinema with a testy, barely on speaking terms relationship with God. It was bound to produce a crowd-pleaser for the aesthetic set and Jellyfish might be it.

 JELLYFISH  (Unrated; 89 min.), directed by Etgar Keret and Shira Geffen, written by Geffen, photographed by Antooine Héberlé and starring Sarah Adler and Gera Sandler, opens April 25 at selected theaters.
Send a letter to the editor about this story.